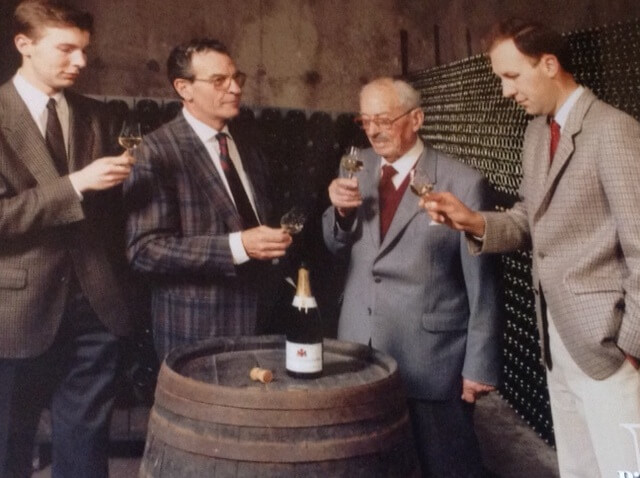 "Blends are better than single vineyards," asserts Didier Gimonnett, whose family has been growing vines in Champagne since 1750.
Actually, Gimonnet is one of the first "grower Champagnes" I tried in Manhattan a six years back, when the idea first became popular. Of course, the popularity of "grower Champagne" was part of a larger idea incorporating the "traceability" and "pedigree" of meat, fish, and produce also popularized by fine dining restaurants. The idea was that Champagne consumers wanted to have a more exact sense of the vineyards from where the wine was sourced.
Both Didier and his brother, Olivier quite possibly lucked out in life (as far as terroir is concerned). Their grandfather Pierre, originally a farmer, was able to purchase 28 hectares of vines, 11 in the grand cru villages of Cramant and Chouilly, and another hectare of grand cru land in Oger.
Pierre first began making wine in the village of Cuis.  According to Didier, the difference between the way his grandfather made wine and how he and his brother make one is one of philosophy as well as style.  "My grandfather made Champagne because it was his livelihood.  My brother and I want to make the best quality wine possible, so we are always trying new things and experimenting.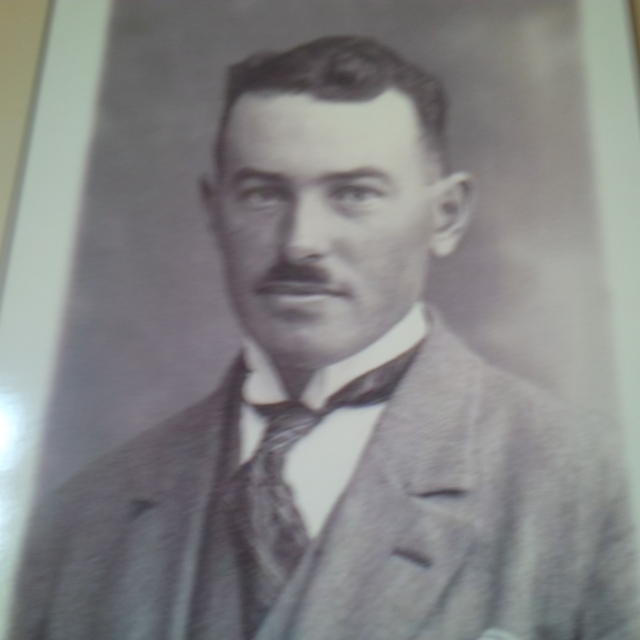 The new generation were lucky enough to know their grandfather, and their father was also a strong, supportive source in the evolution of Gimonnet.  "My father was always open to investing in the vineyard and winery if it would produce better wine," Didier says.
The brothers do some fairly unique things when it comes to their wines … for one, they store their reserve wines in bottles as well as tanks, adding four grams of sugar to give a little sparkle. According to Didier, it keeps the wine fresher ("reserve wine can become tired in tank," he says) and may help the finished Champagne age longer.
Another factor responsible for the quality of the wine is that the vines have an average of 35 years.  And in the Grand Cru Parcels, 70 percent of the vines are over 40 years old.  Two vineyards are exceptionally old: Fond du Bâteau (planted in 1911) and the other in Buissons, (planted in 1913).
Another unique aspect of the Gimonnet winemaking philosophy is that blending varietals, as well as quality, is key when it comes to producing wines with a combination of finesse and elegance.  The brothers like to blend fresh young wines with Grand Cru reserve wines, as their qualities are complimentary.
"You will not find wood here – all parcels are vinified separately to preserve their distinct identities."
I think what I enjoyed most about the conversation is hearing the story of his grandfather and father, and how the brand was created.  If I understood the family dynamics correctly, Didier's father was a man with a vision – he knew the quality of the vineyards and that the family had a true quality product.
"So when was the first time you realized you had a world class brand?" I asked Didier, somewhat expecting him to have a fond memory of a sommelier or maître d' in Paris greeting him as a small child with enthusiasm.
To my surprise, there were no childhood memories like that.  It takes him quite some time, in fact, to come up with one since he explains that since he was a small boy he always knew the value of the Champagne.
When pressed, however, he finally has a key moment:  a few decades ago he entered one of his Champagnes in an important blind competition, and it was one of the top three winners along with the two biggest Champagne houses.
Another key takeaway point about the specific style of Gimonnet Champagne:  its freshness.
"Sommeliers love our Champagne, because its freshness and finish refreshes the palate, tempting the guest to order a bottle of wine or more Champagne," Didier adds.
I really enjoyed my visit with Didier:  the winery is actually located in the house where he grew up, a modest home in a modest neighborhood with a gorgeous floor to ceiling view of the vineyards.  It's quite impressive.
"I love this room," he says, as we sit down for a tasting. "When I was a child it was our family dining room and I remember always being mesmerized by the view."
As we taste through the various wines, I listen to Didier's stories of growing up in this very neighborhood, the simplicity of the house, and and all the pictures on the wall. In each wine I taste, I really feel I am tasting the terroir – and a bit of the Gimonnet family legacy as well.