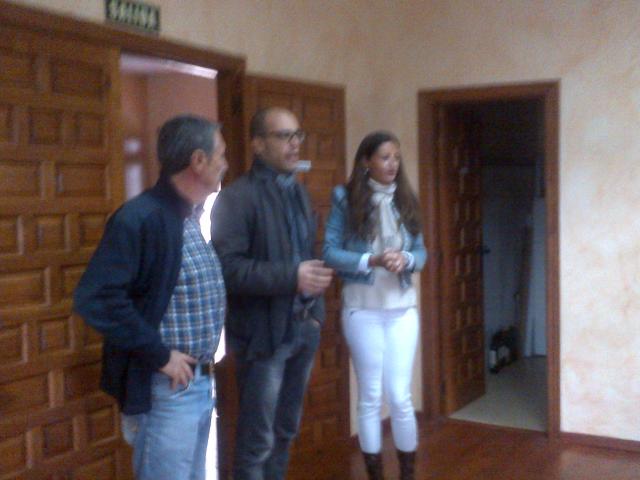 Ah, Rueda!  How many times have I read the name of that town, specializing in the Verdejo grape.  How many long nights have I spent studying my WSET textbooks, or tasting with fellow students to completely understand the aroma and flavor profiles between Verdejo and Sauvignon blanc, as both are aromatic varietals.
So I finally had the opportunity to visit this region (we are talking about a VERY small town) and meet a winemaker from the higher end Val de Vid winery.  Sylvia Garcia is a very attractive youngish winemaker, who dresses like a fashion model with trendy boots, slim white jeans with gold-zipered pockets, and a denim-like jacket studded with pearls and sparkling faux gems. If Mattel ever decided to come out with a Barbie who was a professional winemaker, Sylvia would be the model.
"I was studying technical agriculture engineering and the last stage of my studies, I worked in a winery," she tells me.
This is my golden moment to learn all about Verdejo and I make the most of it. The winery owns twenty hectares of their own vines (much of it old vines) . The soil is very stony and looks as if it drains well. In Spanish it is called Cascajo – a mix of chalk and clay.
The grapes are machine harvested at night when it's cool, as during the harvest the continental temperatures could be extreme (thirty Celsius during the day, ten at night). 70% of the grapes are crushed immediately, with the remaining 30% aged on the skins for eight hours, which gives the juice extra flavors and aromas.
Then something interesting happens that was NOT in my WSET books.  The juice is cold settled for FIVE days (not 24 hours) with the objective of the gross lees mixing with the juice to give it additional flavors.
Sylvie is amused when I ask if it is natural or cultured yeast – she gets this question from Americans quite a bit. For her, it is always safer to use commercial yeast developed by a local  university.
Fermentation takes around a week, and afterward the wine remains in tank with battonage in tank twice a week for four months with the stirring action made by nitrogen. Fermentation is stopped when the residual sugar reaches 7 percent: it is immediately chilled down overnight until the residual sugar is three percent.
The Tasting
Val de Vid Rueda 2012 is a blend of 80% Verdeja and 20% Viura. It is a scintillating gold color with flavors of ripe peaches and white flowers. Very tropical
Condesa Eylo 2012
Grapes for this wine come from other producers …. nice aromatic profile, 100% Verdejo.
Verdejo Reserva 2012
This wine is aged in new French oak for six months. Very rich and great with food.
So there you have it!  Rueda is no longer a tiny paragraph in a giant WSET textbook … it is a small, remote region (a four hour drive from Rioja!) where you can find a tiny village and well-dressed winemaker!