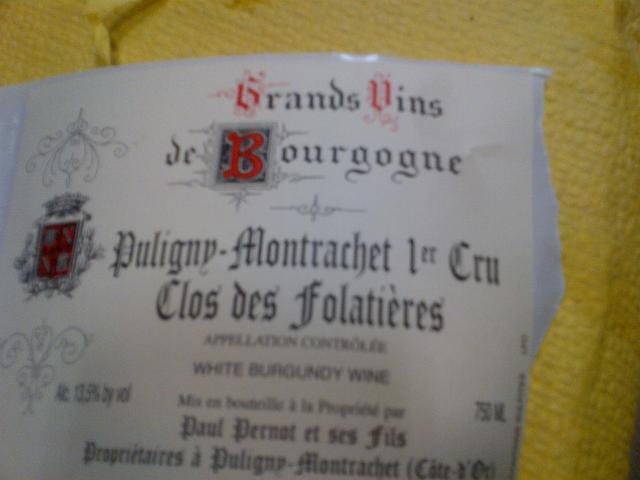 "The two Burgundian grape varieties were both badly treated by the weather throughout the vegetative cycle," begins Roland Masse, in his opening address to journalists during the official tasting of the Vente des Vins des Cuvees de la Recolte 2013 du Domaine Hospieces de Beaune.
Despite this news, wine for this charity event run by the Christies auction house set a price record for the second year in a row, raising more than six million Euros. "We are very happy with this exceptional result," said Michael Ganne, director of the wine department with Christie's of Paris.
The record auction price is well deserved … though the weather did create a smaller harvest, many of the wines tasted at this event were real gems, as the naturally low yields increased concentration and flavor.  This rather ceremonial tasting in the Salle Saint-Nicolas of the Hotel-Dieu, is attended by some of the world's most renown critics.  It was interesting to be seated at the round table of Michel Bettane, who for some reason was surrounded by an eager group of young Chinese who appeared to be making a documentary of sorts about him.  Across from me was Bernard Burtschy of Le Figaro, and a few tables away Neil Beckett of the World of Fine Wine among others.
The Salle Saint-Nicholas tasting was quite civilized – eager young people in green aprons would bring wine on command, and re-pour if desired. Spitoons were within easy reach. The ambiance was quite and reverential.
This was in direct contrast to the "public" event on Friday at the place where the new barrels were aging, where everyone (trade or press) had to pay twenty Euros, wait in line, and also bring their own glass (however, one could be purchased inside).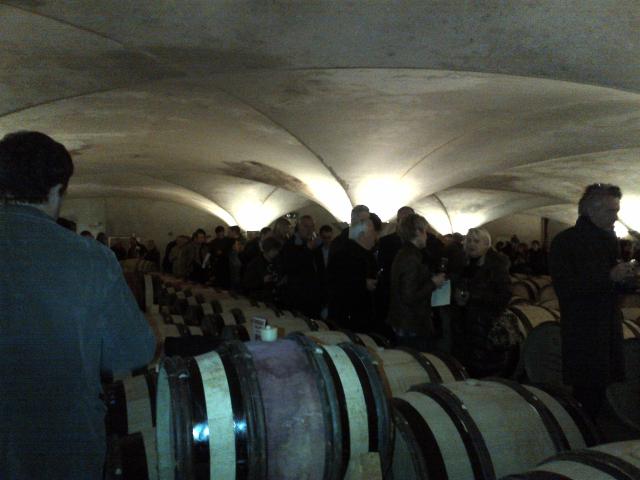 The ambiance here was convivial: groups of friends, couples, and families slowly snaked their way in an organized fashion through the cellar, where every eight barrels or so a winemaker or an assistant would ladle a tiny pipette of wine into the glass – just enough for a sip.  Usually by the time one analyzed the wine and made notes, the glass was ready for the next pipette – quite an interesting system.  Beyond getting a glimpse of the 2013 system it was a great way to get a sense of the different regions.  For me the Corton Clos du Roi, Baronne Du Bay Grand Cru stood out, as well as the Beaune 1st Cru Rousseau-Deslandes.
The international press also assembled on Saturday for the Dejeuner Offiiciel de la 141th Fete des Grands Vin de Bourgogne featuring the wines of the Cote Chalonnaise, Cote d'Auxerre, Saint-Aubin, and Givry. Nelly Blau-Picard, VP of the BIVB specializing in exports, was seated next to me and we discussed many of the BIVB's plans, especially in Asia.  Japan is a top market along with America at the moment.
Saturday was also the BIVB's Palais des Congres tasting of 3000 Burgundy wines, with virtually each kiosk representing a region.  In past years I had come early – and did not realize near the noon hour the lines to taste "Volnay" or "Gevrey-Chambertin" were six people deep.  One woman, glass in hand, went to each kiosk in turn thrusting out a glass and demanding "Grand Cru" in each.  The people manning the lines seemed to take the crowd with a sense of humor, keeping their cool.
Thursday night was a night of Gevrey-Chambertin producers getting together and holding a four hour tasting of their various wines (including several Grand Grus) followed by a dinner featuring several older vintages.  On the back of the tasting sheet was a place to write notes and scores.
Interestingly enough, I found myself seated at dinner next to the president of the Syndicate, Jean-Michel Guillon.  When I turned my notes over, I was happy to see that his wines received excellent marks.  What was interesting about our conversation was that unlike many other Burgundian producers who inherited their land, he was "self-made" having started out as a young person working the land of others and gradually aquiring land.
Other interesting developments during the week was a round of tastings with Jeanne-Marie De Champs of Domaines et Saveurs, who brought me to many of her producers – some for the second time – to see how the 2012s and 2013s were developing. The excellent quality of these wines was the first tip that the auction would work out well. Yet beyond the exercise of ascertaining the balance and finesse of the vintage, was meeting the producers themselves.
Burgundian producers are all very different.  You have the large houses … for example, I was invited to visit one of the larger houses, Bouchard Aine & Fils for a "special tasting" that was very dramatic and elaborate in construction.
A very limited number of guests were led down to the beautifully maintained cellars to taste both the new vintages and the older vintages, including a Beaune 1er Cru Clos du Roi 1964.  It was fairly magical:  candle light, old barrels, the scent of fermenting wine … all very romantic.  You could also find some light bites to accentuate the wine and food pairing.  Employees would deposit the wine into glasses from pipettes as one strolled through the different rooms.  A very unique experience!
This large house was in contrast to the tour of smaller producers lead by Jeanne-Marie De Champs, who started her export business a few decades ago, with strict requirements for a "good farmer."  Given the high prices of wine from this region, one may make erroneous assumptions about the growers. Most are modest in the extreme, spending their time in the vineyards and winery.
One of the most vivid examples is Paul Pernot, a beret-wearing WW II veteran who conducted a short tasting of his Grand Cru Puligny-Chassasgne in his bottling room. The contrast between this weathered farmer, who quit school at the age of 14 to help his family and the finesse and sophistication of the wine with its elegant gilt label was quite poignant.
Anne Parent, winemaker for her family's Domaine Parent, is a new acquisition for Jeanne-Marie and a good example of women who are succeeding in taking control of the family's winemaking, typically reserved for the oldest male.  Domaine Parent owns several choice Grand Cru parcels, and though Anne is a more sophisticated example of a "good farmer" (she had been a BIVB executive many years, going around the world to educator journalists and consumers about Burgundy), yet she is still obsessed with using new approaches to make the best wine while also being as natural as possible.
Sometimes taking control of the winemaking of a family domain is not a question of a younger daughter fighting for this right against a brother, but a question of a brother having his own ideas about winemaking and fighting his family for control. Such was the case of Benigne Joliet of Domaine de la Perriere, who had to buy out various family members in order to make his wine in a more natural, quality style.
… and sometimes an heir to cru classe vineyards, with little desire to take over operations, ends up drafted into the job. Such was the case of Paris-born Jean Meo of Meo Camuzet  did not have this choice. At the age of 20, his father (who was involved with businesses other than the winery) asked the question: "would you want to take over Meo Camuzet?" Though the question came as a surprise with only a short time to make the decision, Jean said yes.
More typical is the father/son transition of Domaine Bart in Marsanny, a red/white/rose appellation that had been famous for rose wine for many generations. Domaine Bart, like Benigne Joliet of Domaine de la Perrier, are both in the process of applying for Grand Cru status.  Martin, an energetic man with electric white hair a la Albert Einstein, is quick to jump to a map to point out the family's various diverse vineyards.
The lucky winemaking families had prescient ancestors who were quick to jump on available land when it was affordable: today many fine winemakers like Domaine Langoureau are priced out of the market.
To sum it all up, Burgundy is a tapestry of not only soil types yet diverse producers, each with his/her own story worthy of a television soap opera. Beyond fine winemaking and luck with inheriting or acquiring the best land, good farmers need to have a "sixth sense" when it comes to weather.
When I asked Dominique Gallois of Domaine Gallois his 'secret' for his excellent wine in an uncertain 2013 vintage, he responded thusly:   "I looked at the moon, " explaining that whenever there was a new moon, one can expect weather changes so he picked earlier sensing rain and cold, while others took a chance.
Otherwise, various snapshots of the Hospieces de Beaune scene were four stars hotels filled with wealthy Americans here to bid as well as experience the black tie dinner at Clos Vougeot  and a Monday lunch at La Paulee de Meursault, where guests bring their own wine and share it with other participants.  Here famous labels that flash by each second, with your glass filled with a generous inch of a properly mature Grand Cru vintage, and just one moment later, an even better bottle passes by! In 2011 I was lucky enough to be seated among the various dignitaries.
Yet at the heart of Hospieces de Beaune is the charity auction that does so much to help the poor, as well as the way the festivities also allow the locals inexpensive access to experience the Grand Cru wines they might not be able to afford through the various tastings.