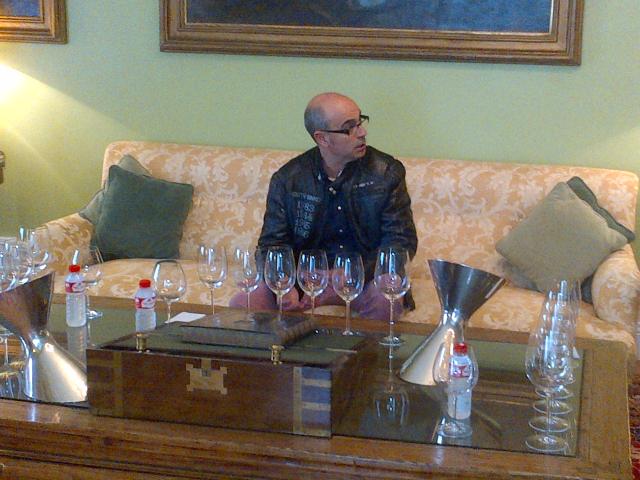 "A wine is like a person," says Xavier Ausas Lopez de Castro, Technical Director for Bodegas Vega Sicilia. "We may dress differently and wear different styles of clothes, yet we are both human beings," he says, explaining the often dramatic differences between individual parcels.
In addition to his responsibilities as technical director for Vega Sicilia, Xavier is also quite the philosopher, with the gift of using vivid anecdotes to explain his key points.
Now my first experience with Vega Sicilia was at a tutored tasting of key vintages n New York, led by Pablo Alvarez Mezquirez. It was fascinating to taste these extraordinary wines, especially the old vintages.  I remember the incredibly unique taste that I fixed in my mind, mentally describing the explosive, intense flavors as something akin to a pure beam of red cherry fruit on French vanilla ice cream.
I also remember listening to the incredibly intense maturation program, which involved a variety of vessels (new barrels, used barrels, 30 year old wood vessels, stainless steel tanks) and a great deal of patience.
So you could understand my excitement when I was granted a three-hour tour and tasting with Xavier – especially in the middle of harvest.
"Welcome," says Xaviar, a tall man with a calm, relaxed demeanor. He is wearing salmon colored slacks and an interesting black leather jacket with years like "1985" and "1994" in a pattern on the front.
"Is there any significance to the numbers on the jacket?" I ask, curious if they represent favorite vintages.
"It's just a jacket," Xavier says.  Yet In the course of our visit I come to learn that Xavier is a man to whom numbers hold great meaning and respect. He pronounces vintages and the dates with great reverence. Vintages especially, as each is like one of his children.
A Brief History
Vega Sicilia is a series of red brick buildings, looking more like a factory than one of the most respected wineries in the world. Just the other day I saw that a single vintage bottle was selling for thousands of dollars at a New York auction. Yet there is no pretention here … just a well-worn grouping of red brick buildings surrounded by a lovely green park with colorful flowers and fabulous trees.
The Vineyards
The vines were first planted here in 1864 by Don Eloy Lecanda Chaves, who arrived from Bordeaux with Bordeaux vines and Bordeaux winemaking techniques.  The winery is now owned by the Alvarez family.
Enter Xaviar Ausas Lopez de Castro

Xavier has been technical director here since 1989, having been brought in to oversee the development of the Alion vineyard, their second Ribera del Duero estate. Two wines are made at this original Vega Sicilia estate: the top end Unico, only made in the best years, and Valbueno. Both wines are made in similar ways I will later describe, yet the key difference is that Valbueno does not age as extensively as Unico.
The Tour

We begin the tour in the cellar, filled with bright shiny equipment and a variety of workers in white lab coats, looking very serious as they take various measurements or gently pump over the grapes with the hose.  Some of the tanks hold must that had just been crushed the previous day.
As you can imagine, the vines, grapes, must and wine are given VIP treatment in every step of their evolution.
Grapes here are hand harvested and put into a 12 kilo perforated tray, so the bunches are not crushed by the bunches above them.
 Grape Reception

Grapes are picked by hand by teams of trusted workers, mostly Spanish, and many of them wine students. Upon entering the reception of the winery, the grapes are stacked in any one of the six cold rooms that chills their temperature from 30 Celsius to three degrees – nearly freezing.
Selection
The bunches of grapes are gently guided to a desteming machine, with the grapes ending up on a gleaming silver sorting table manned by eight people who pick out any berry that is less than perfect.  After this human element, a vibrating machine further ensures that only the best berries make it to the crushing machine, which can be set to different tensions. Here the setting is very low, so the grapes are barely broken.
Once crushed, the mix of free run juice and barely-crushed grapes fall by gravity into a sleek stainless steel vessel, and from there, fall into the large stainless steel tanks again by gravity.
Fermentation
Ambient yeast is used at Vega Sicilia. I watch as one of Xavier's team members puts some into a tank.  At the beginning of harvest, Xavier lets some grapes ferment naturally, as a starter, and then uses a strain of this to inoculate the new wines.  The fermentation process takes about 15 days.
Map of the Vineyard
In the technical office, Xavier shows me a map of the vineyards, neatly identified by a series of colors. The office is a busy place – it is where data is collected and recorded.
It is in this office that Xavier also tastes the fermenting. Since 2009, each tank of fermenting wine represents a particular parcel. So each day, Xavier tastes a sample from each tank to see how they are developing.  I look at the line up of wine glasses, each holding a dark purple liquid, and am compelled to ask the question:
"Can you taste the difference between these parcels?"
"After 20 years of working with these parcels, I know them well.'
I am led to the computer, which gathers data from each of the fermentation tanks that come in two sizes, 80 and 100 hectoliters, but 20 hectoliters are always left empty for fermentation purposes.
Gravity Flow

After fermentation, the wine is gently conveyed into a stainless steel "elevator" tank from which it is lowered to the floor below via gravity.
Maturation
Unico is fermented in wood and Valbuena in stainless steel but otherwise the majority of the steps are the same. After malolactic fermentation Xavier again tastes all the parcels and makes observations about them.
Barrel Aging
Okay – this is where things become very cool. Maturation is an art at Vega Sicilia, and it appears there are three creatively named processes.
After malolactic fermentation all the wines come to a 100% new barrel, half American and half French (Nevers forest).
"This is the 'musculation phase," says Xavier. This phase is like a gym. New Oak gives tannin and the ability to age."
For the next phase, the wines are brought into used barrels.  This is the "education phase."
Again, Xavier explains the reasoning. "After the time in new oak, the wines have an aroma of oak. The used barrel helps integrate the new oak, it helps give the wine evolution not oxidation. It integrates the wine's aroma and the aroma of wood."
For the third phase, all the wines to giant 30 year old wood vats.  This is called the "recuperation phase."  "Here the wines recuperate the fresh fruit aroma. Also, here we make the pre-assemblage."
What Xavier means by this is he tastes the different vats to determine which vats are complementary to one another – these are then placed together in a larger vat.
The Cooperage
It's important to note that Vega Sicilia has its own cooperate in the winery, and ages the staves right on the property for two years before being shaped into a barrel.
The Tasting
It's important to keep the style of the house," Xavier says as we visit the charming Manor House to taste the wines. "We need to respect the personality of the wines. It's not important what critics say."
We taste five wines, all of which will be released in 2014 beginning with the Pintia 2010 from the Toro region.  The goal, Xavier says, is to make the "most elegant wine in a rustic region."  It's delicious with a wild jammy nose and made from 100% tempranillo with a long mineral finish and layers of flavor of juicy black cherries. "If you like a lot of sensation, Pinitia is your wine," says Xavier.
Next is Alion 2010 – interesting, Xavier was brought here to create it. This is also 100% Tempranillo with 100% new French oak. The soil here is chalky clay and it resets in barrel for 15 – 18 months, like Bordeaux.  The nose is very fresh, like frozen cherries, and there is a delicious candied brandied fresh frozen black cherries on the palate.  Chewy, teeth staining tannins. Fabulous.
Macan Classico 2010 is from the new winery in Rioja … a partnership with the Swiss banker Benjamin de Rothschild.  The objective is for it to be easy to drink, while the Macan 2010 is designed to be complex and powerful. It has an explosive palate with tar, black fruit, and pencil shavings. Curiously, it tastes very much like a Bordeaux.  Xavier agrees, and admits he studied in Bordeaux.
Unlike Vega Sicilia, the Macan wines are not vinified by parcel. "Here, after twenty years, I recognize every parcel. Rioja is still new for me … after twenty years perhaps I will recognize the parcels."
Then we taste the Unico 2004, which Xavier feels will surpass the famous 1970. It is delicious, very well balanced, with a perfumed nose and silky tannins on the palate
Farewell
While my initial excitement in the visit was seeing the winery and experiencing these wines, by the time I left I was actually very excited to have met Xavier and learning his philosophy about life, and wine. His patience with the wine, and his detailed explanation of every single tiny step taken to ensure the wine was the best it could possibly be, was very inspiring. A fabulous visit and fabulous wine!