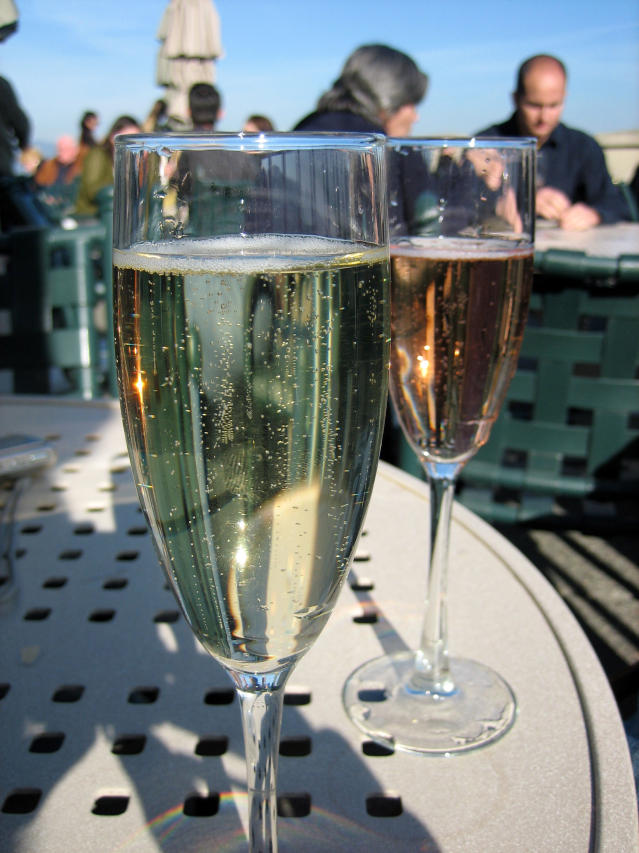 Sparkling wine is synonymous with the holidays … impossible to resist the good cheer those bubbles bring. And more than ever before, choices abound! Champagne from France, Prosecco from Italy, Cava from Spain, and of course, sparkling wine from California.
Visit Carneros or other sparkling wine regions in northern California and you can find many different styles … "house blends" as it were.
Each has its own merits, yet in this post I'd like to tell you the story behind Gloria Ferrer, which has just come out with a new sparkling wine. It is a non-vintage Blanc de Blancs, which by definition means that it is made with 100% Chardonnay grapes from Carneros.  Try it and you will find a tangy orange blossom bouquet, and a clean, refreshing, creamy palate.  If you are having oysters for a holiday meal, it's the perfect match.
Yet what's equally important about this wine is the story of the Gloria Ferrer brand, which had its roots in the "old world" of Penedes, Spain and the popular brand of Freixenet Cava, created in 1915.  In the early 1980s, the family knew the key to a world-class méthode champenoise wine would be Pinot Noir. They decided to plant Pinot Noir and Chardonnay clones from Champagne in Carneros.
Today,with 335 acres under vine, the estate vineyards at Gloria Ferrer produce Pinot Noir and Chardonnay that ival some of the world's finest.
Beyond the new Blanc de Blancs, you can find the ultra premium cuvee VA de VI, a classic blend of Pinot Noir and Chardonnay, which captures the luscious flavors of ripe fruit with a long soft finish.  Exotic flavors like ripe peach, Meyer lemon, fresh berries and vanilla are found on the nose and palate.  It could be a great match for a cheese course.
Then you can find the Sonoma Brut, hand-harvested from Pinot Noir and Chardonnay grapes. Lively citrus, toast, and apple flavors can be found on the palate, while the nose beckons with pear and floral notes.
Finally, one of my personal long time favorites, the Blanc de Noirs, 92% Pinot Noir with a vibrant red fruit character.  This wine can stand up to main dishes like roast pork, quail, foie gras, and other holiday type courses.
Freixenet is a dynamic family owned winery that is very forward looking, and how has expanded to many different production areas in Spain. What's impressive is that even though the Freixenet brand is one of the top selling Cava brands in the world, the family who runs this enormous operation are so friendly and down to earth. You can read more about some of the wineries they own here:
Beyond Cava: The Freixenet Story in Rioja, Ribera Del Duero, Priorat