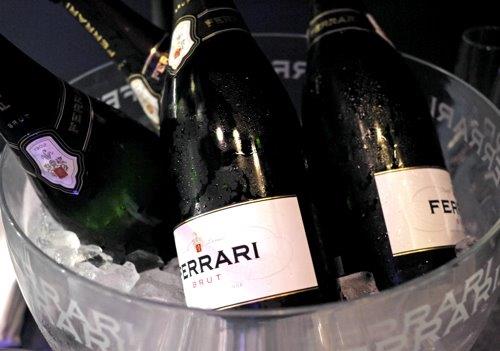 "So what does a man do when he has five sons?"  Well, one possibility is to buy a winery and put them all to work.
This is exactly what happened at Ferrari, who produces metodo classico spumante in Trentino, Italy. Interestingly, the winery was created by Giulo Ferrari in 1902, who had gone to Champagne to study the 'traditional method' and returned to Italy to found Ferrari wines. In 1952, wine merchant Bruno Lunelli (grandfather of the current team of Camilla, Marcello, and Matteo Lunelli) bought the winery and turned it into the international star producer it is today.
I visited the region last November, touring Ferrari as well as many other wineries. What I can say is this:  all the wineries were unique. Most were very large shops, some also very high tech. Yet Ferrari wins the prize for glamour … very easy to imagine a sleek red Ferrari parked outside this elegant winery with its polished white floors and floor to ceiling windows. The trio mentioned above are all very active in the winery, and considering their position, very friendly, gracious, and forthcoming.
One of the interesting observations made was the comparison of the 100% Chardonnay wines to Champagne.
At any rate, many of the wines tasted that day are in the market here in the USA and are perfect for holiday sparklers.
They include the 2006 Ferrari Pere, a Blanc de Blanc sourced exclusively from estate owned vineyards and spends 60 months on lees giving it a fine mousse and long elegant finish, the signature Ferrari Brut NV (100%  Chardonnay) which spends 24 months on lees and has a citrus, fresh quality, and the delicious Ferrari Rose NV, a blend of Pinot Noir and Chardonnay).
One thing I think will impress you is the smooth creamy quality of the mousse, it feels very gentle in the mouth. These are very elegant wines and I'm sure you will enjoy them!