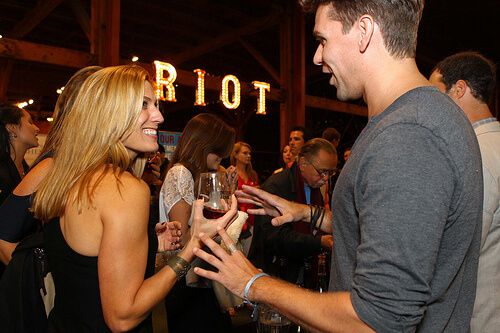 It's that time of year again … November is the time to celebrate Beaujolais Noveau. What started as a competition among French wine distributors to deliver the first Beaujolais Nouveau to Paris has grown into a worldwide celebration. Released after the stroke of midnight on the third Thursday in November per French law, Beaujolais Nouveau is a bright, fresh red wine made from the Gamay grape and bottled just at the end of harvest. The 2013 Georges Duboeuf label embodies the retro spirit of a golden era with a vintage image of the Parisian skyline.
"The 2013 Beaujolais Nouveau is a lovely purple-red color with aromas of wild strawberries, currants and exquisite scents of raspberries," said winemaker Georges Duboeuf. "This wine is delicate, rich and perfectly balanced."
This is an EXCELLENT party wine, especially when the house is packed with guests. And you will not be alone … in the holiday season, 35 million bottles of Georges Duboeuf Beaujolais Nouvea are bought.
Yet this wine is only a fun taste of what the Gamay grape and the Beaujolais region have to offer. Duboeuf owns a number of Cru properties (the top quality vineyards) and each is quite distinct from one another.