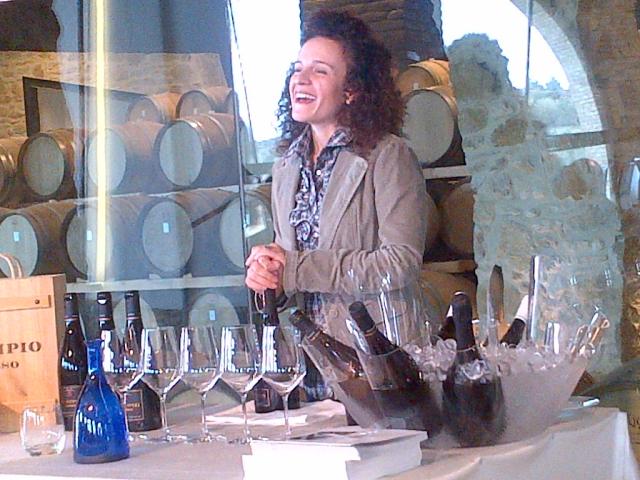 "I'm Julia, we are honored to have you visit today," says Julia Di Sipio, who is in charge of marketing for this Di Sipio family business. The winery is a new purchase for the family, who built a fortune in the automotive industry.  Mr. Di Sipio loved wine, modern architecture, and the opportunity to express this in a new winery.
Well, the winery is gorgeous and as is the trend these days, integrated into landscape. One arrives and does not quite see a "winery" – only an expansive terrace with a picture postcard view of the vineyards below in the rolling hill landscape.  During the harvest, grapes are received on this level and by gravity are gently led to the winery below.
Conditions are perfect for the production of quality wine. The hills are about 300 meters, and the vines are located 10 kilometers from the mountains and 7 kilometers from the Adriatic sea. The winery is "bio organic" (not bio dynamic) and you can find a wide variety of soils and rootstocks.
Walk down the circular stairway and you will find the tasting room.  Here, as Julia leads a tutored tasting,  you can see through the the French oak barrels through a transparent wall.
When asked if the family is active in China, Julia explains that they go three times a year to give a tasting, a winemaker dinner, and also an event for sommeliers where they enjoy the wines paired with Italian food. This wine and food pairing is key to Julia and the family, as they believe wine is meant to be enjoyed with food.
Tasting
Di Sipio Brut Sparkling Wine (60% Pinot Noir, 40% Chardonnay)
Gold color, scintillating, on the nose very buttery brioche.  On the palate, crisp and refreshing with high acidity, minerality, and subtle soft yellow fruit flavor.  Aged for 36 months on the lees.
2008 Riesling IGT
10 hour maceration, then press the must and let the must ferment in stainless steel.  It is a pale color, very scintillating. Though crisp and refreshing with high acidity, it is rather un-Riesling like with notes of poached pear.
2010 Trebbiono

Sumptuous golden color, scintillating, floral aromas, exotic east Indian spice, and on the palate refreshing acidity and a caramel flavor from the year in oak.
2007 Reserva Rosso (100% Montepulciano)
Hand picked grapes from oldest part of the vineyard.  Put grapes and must into a wood tank that does not allow the grapes to rise to the surface (a grill is inserted in the middle) for two years without racking.
Deep opaque color, nose of spice, anise. On the palate, very smooth body and texture, with incredible concentration of ripe grapes. Great balance between high acidity and smooth, firm, structured tannins.  The wine is released after five years.  Long finish with black ripe fruit, brown sugar (though completely dry).