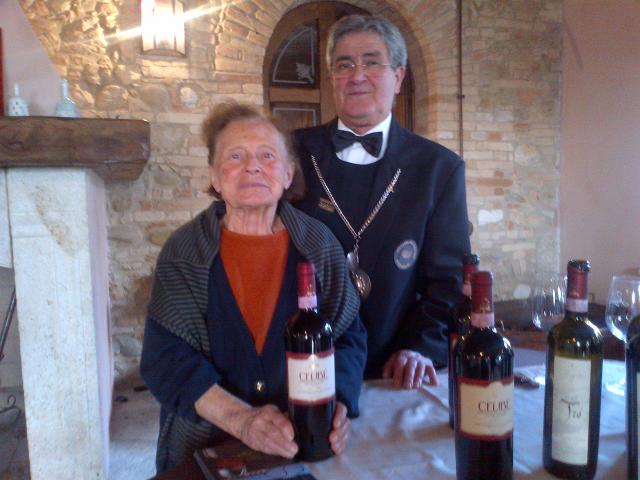 "Welcome," says Guido Strapelli, with a friendly smile. Guido is the fifth generation to farm this vineyard, which now has an increasing focus on organic wine production. The family has ten hectares, some planted in front of the winery and the rest in the hillside.
The winery took a giant step forward in 1990 with the creation of a state-of-the-art winery, and this top level of quality and focus on organics (they were just certified) shows in the wine as we taste it.
The tasting room is very well appointed with a roaring fire and sommelier complete with a silver tastevin around his neck, and a very classic looking "senora" of the family who has lived on this land for many generations and is clearly enjoying the visitors enjoying her family's wine.
The first flight of whites include Trebbiano, Malvasia, and Pecorino … all somewhat neutral white wines that, tasted side by side, can be clearly identified by the intense minerality and soaring acidity in the Pecorino, the still strong yet less overt acidity and minerality in the Trebbiano (Trebbiano also has floral notes on the nose), and slightly sweeter notes (though a completely dry wine) on the Malvasia.
Outside you will also find a winery cat (in this case, a kitten) and two winery dogs.
Very curious to learn that this winery is actively courting the Chinese market.  Speaking to their Asian consultant, I discover that the Asians prefer the medium-level Montepulciano to the top Reserva or the white wines.
A surprise after the tasting: we are expected for lunch elsewhere, yet a beautiful table has been laid out with "snacks" – actually unique dishes of the region.  The mini-dishes are impossible to translate yet include tiny sandwiches, a lasagna type dish which – it is stressed – is very specific to this town.