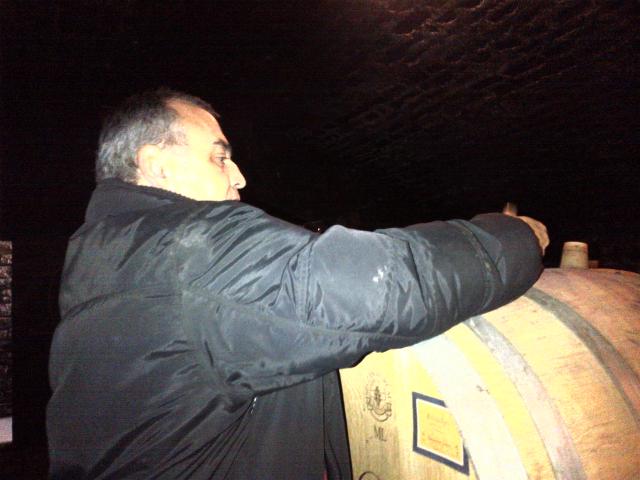 "In 2012 Mother Nature made the selection," says Dominique Gallois, in response to my question about the intense concentration of the basic Bourgogne rouge, which I attributed to low yields and careful selection.
This is my second visit to this estate, and now I can confirm that there is something very special about Dominique and a visit to his cellar.
First, it's fairly common for winemakers to receive visitors in their cellar, and also common for them to take a special glass instrument to withdraw the wine from the barrel and dispense it into glasses so that visitors can have a tasting of the maturing wine.
Yet there is something in the intensity of Dominique's face as he performs this function. It is something akin to the expression you might see on the face of a careful doctor in a maternity ward as he makes the rounds of his newborns, or the expression on the face of a very celebrated and innovative chef as he watches the work of the sous chefs under him.
At any rate, we are in a very neatly organized cellar with expensive French oak barrels holding hundreds of thousands of dollars of maturing Grand Cru. The cellar looks both ancient and modern with is Roman arched ceiling and pebble floor, yet the glossy new barriques give away the modern touch.
After taking over from his father in 1988, Dominique's debut 1990 Gevrey won top billing in a regional tasting and has gone on to achieve many accolades since. His general vinification method is this: grapes are 100% destemmed, then left to macerate at relatively low temperatures for approximately five days in order to extract flavor. During the fermentation, the traditional Burgundian technique of pigeage, or pushing down the skins into the juice, helped to keep temperatures and skin contact even throughout the vat. Generally wines are aged Allier oak barrels for over 15 months with 25% new oak, until bottling.  Wines are filtered before bottling but not fined.
In 2012, Dominique managed to save his crop by harvesting early when others waited to achieve ripeness. Unfortunately, the wait was ill timed as the rains came to deliver dilution and rot.
"How did you know to harvest early?" I asked.
Dominique explains that there was a change of moon, and whenever there was a change of moon, it meant a change of weather too.
Tasting:
Bourgogne Pinot Noir 2012
Well balanced, concentrated. Spice
Givery Chambertin 2012
Pure cherry fruit minerality.
Grand Crus Les Goulots and Petite Cazetieres
 2012
Note – typically these Grand Cru wines are vinified separately, Yet the small 2012 yields was such that Dominique blended them together
Intense aromas of spice tobacco. Well balanced structure smoke explosion of flavors. He prefers them sep. It gives it roundness
2012 Gevrey Chambertin Combe Aux Moines
Brandied cherries. Long length.
2012, 2010, 2009 Charmes Chambertin
Clos de Tart
We taste three vintages of this Grand Cru vinified in 100 percent new oak from vines planted in 1910.
The vintages  are all different, yet finesse and elegance. The 2010 shows more tannin and muscle