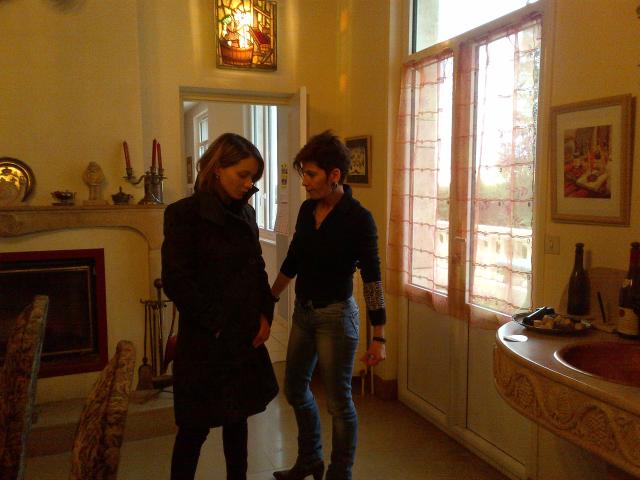 "Take your time with this," says Nicole Lamarche, speaking of the Grand Crus we are here to taste.  It is a "frozen" November day, though inside it is warm and the view of the neatly planted vineyards across the way is beautiful.  And so is winemaker Nicole and her sister Natalie, looking Vogue magazine camera-ready.  Nicole looks very sharp with a simple black jean and tee shirt combo, her hair artfully cut and a pierced diamond around her lips.
Since 1997 she has taken responsibility for the family's prestigious line-up of Grands Echezeaux, Echezeaux and Clos Vougeot, and the best of the Vosne 1er Crus (Malconsorts, Suchots Croix Rameau) from her (late) winemaker father whom she joined after oenology school in 2003.
Domaine Lamarche has 11 hectares, which had been handed down over the generations. Jean-Constant, born in Sombernon in the Hautes Côtes in 1835, charmed a local woman (with land) and through the generation more land hand been acquired by marriage and gifts. In  1903, Henri was one of the first to start selling wine in bottle to the restaurant trade. The family's prized La Grand Rue was given as a wedding present to Henri in 1933, and so it went down through history.
So from 2007. Nicole was making wines on her own – and making changes in the winery as well, beginning with going organic in the vineyard and changing coopers, raising the percentage of new oak for most wines, and adapting vinification techniques like cold soaking, and the length and temperature of fermentation and maceration to suit each individual vineyard with careful attention to the vintage.
We tasted a number of the new vintage, all excellently balanced with a great deal of finesse.