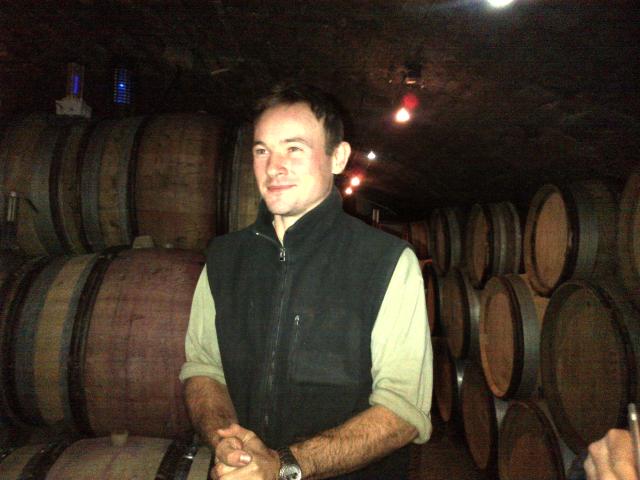 Stephane is now the 4th generation to work this domaine in Morey St. Denis, and while his father is still very much in charge, it is the youngest Stephane that leads our tasting today.
The winery is situated in the Cotes de Nuit between Gevrey Chambertin and Chambolle-Musigny. The family uses very natural methods (hand harvesting, no pesticides) and has very good soil, limestone on the bottom and topsoil of clay and chalk.
Stephane took over in 2008 after working with his father for seven years. The home and cellars look very middle class and modern yet date from the late 1700s.  Victor Magnien, Stephane's great grandfather, grew up in a family of restaurants but fell in love with vines on a visit to his grandmother's winery in Morey St. Denis.
The family has a bit more than 4.5 hectares of land in different regions, including first and grand cru sites.  Winemaking is traditional: They have a new stainless steel fermentation tank, though, and fermentations take about two weeks with pigeage and remontages. Cuvees say in barrel up to two years before bottling.
The Tasting (2 memorable wines)

Morey Saint Denis 1er cru Les Faconnieres
Elegant. Flavors of hard cherry candy and rocks. Small leaves berries give expressive wine. Freshness typical of domaine.
Roots go deep for stony minerality.
Chambolle Musigny 2012 Les Sentiers
Perfumed and structured
Pure beam of sullied cherry fruit. Layers of flavors.