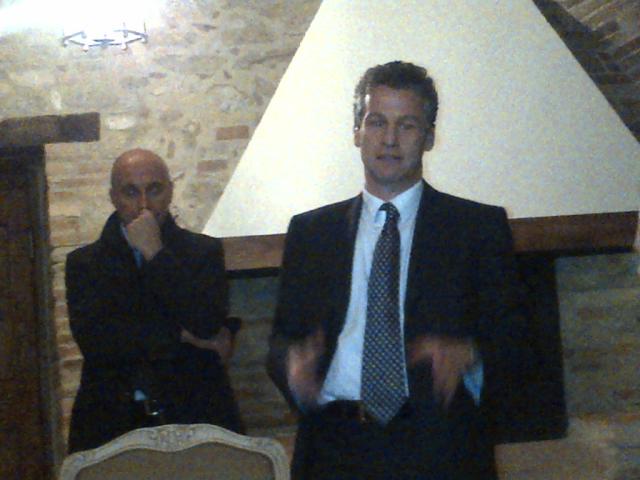 So imagine reaching a beautiful wine estate in the heart of Abruzzo … driving up the road just at the twilight hour. Though too dark to see the vineyards, the handsome owner Enrico Marramiero, who looks very much like the character Richard Gere played in the popular film Pretty Woman, greets us along with manager Antonio Chiavaroli and his English speaking son.
"Fancy a drive to see the vineyard and taste the wine?" I am asked.  In the darkness, it is difficult to make out the vineyards yet the expanse of land and star filled night sky is magical, as is the brief tour of the cellar with its expensive French oak barrels and even a ____ for hand riddling the sparkling wines.  Next step is the tasting room for a very formal tutored tastings of the wines.
Listed below are some of my favorites
Tasting Notes
Abruzzo Pecorino 2012 DOC
Crisp acidity and lots of mineralty.
Marramiero Anima 2012
Grape is d'Abruzzo DOC – well balanced, yet extremely neutral with med racy acidity, minerality,
2010 Trebbiano Marramiero Altare Trebbiano d'Abruzzo DOC – gold color – nose of saffron and east indian spices. The grapes are harvested later, mid September, ferment and age in barrel.  18 months in new barrique – four French and one Slovenian.  Extremely unique.
Montepulicano Inferi 2009 Riserva – 2 years in stainless than 16 months in barrels …."modern style" in that in the past they used large old barrique.  The first vintage was 93 and according to the winery it is Parker-esque in style with notes of chocolate and people enjoy it.
Dante Marramiero 2003 (named after the father of Enrico) comes from old vines over 60 years – juice fermented with skins in big oak casks.  The color is very opaque … wine ages 18 months in cask then blended and put in new barrel for another two years.
Excellent wine and very savvy winemaking team.