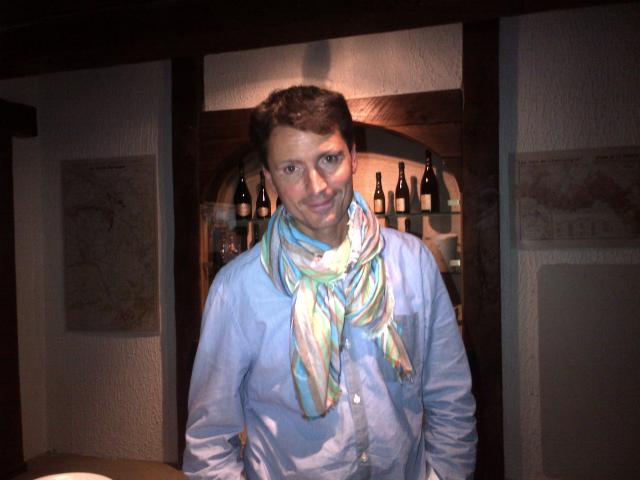 I think the turning point for me was when Tom Stevenson wrote that Vilmart was the poor man's Krug," says Laurent Champs, looking very elegant on this grey fall day with a colorful scarf elegantly arranged around his neck.
We are standing in what can best be described as the tasting room of his family's winery around a large round table. All around us are framed evidence of the awards Vilmart champagne has won over the years … yet according to the very modest Laurent, this was not always the case.
The family can trace its history back to 1890, when it was founded by Desire Vilmart. Laurent is the fifth generation, and also a member of Ampelos, an organization that promotes organic and sustainable viticulture. Perhaps what differentiates Laurent's Champagne from other houses is that they are all fermented and aged in oak.  Non-vintage wines are aged in foudres, with vintage wines getting more special attention with 225 liter barrels.
As we taste through the different wines, I am struck by their elegance and balance. The reasons can be as diverse as the lack of malolactic fermentation to preserve the crisp acidity and help the wines develop more slowly, to  the use of oak in various sizes, and attention to the date of discouragement.
I follow Laurent as he gives a tour of the cellar, proudly pointing out the different types and sizes of oak barrels, many from different coopers and forests, and make a mental note of the multitude of things a winemaker- especially in Champagne – must keep in mind. Compared to what goes on in this cellar at least, the viticulture aspect of it – growing the grapes themselves – seems easy.  Yet you know that in a cool climate area like Champagne, there are many risks to a good harvest: weather, frost, mildew …
Of course, during harvest, Laurent is out in the vineyard himself, directing the action. The grapes are rushed to this very winery, and crushed in the ancient traditional press. The majority of the holdings on the family's 11 hectares is Chardonnay at sixty percent, with forty percent of Pinot Noir.
Vilmart is clearly one of the most respected of the small recoltant-manipulants, and a visit here is always a pleasure.