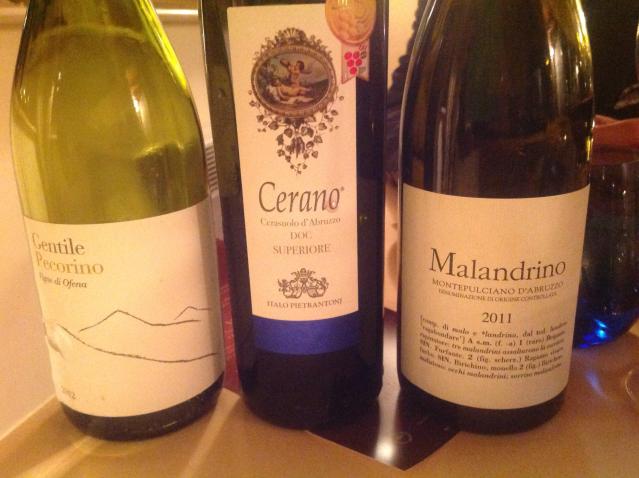 "Thought you knew Montepulciano? Think again. While studying for the Wine & Spirits Educational Trust (WSET) several years ago, I discovered it was the key grape of the Abruzzo region of Italy and that it was said to produce easy drinking, fruit-led wine. Yet things have changed … with producers focusing on a new level of quality and attention paid to both Montepulciano and the region's excellent white grapes, including Pecorino, Trebbiano, and Malvasia.
So after a few hours drive from the Rome airport I am here in Abruzzo to discover the new face of wine from Abruzzo.
The adventure starts at L'Angolini sul Maren restaurant, where the president of the consortium greets me and producers wait to showcase their wine. Waiting on the table were four different types of homemade bread as well as four different types of salt, which appears to be typical of this region.
Abruzzo is an ancient city – a skeleton from the province of Chietl, dating to 6,540, had recently been found. It had various names through the course of history, and had long been famous for its olive oil and wine.
Tonight we start dinner with an ancient grape variety, Pecorino, a 2012 made by the producer Gentile, which is blended with a bit of Chardonnay to match the first seafood dish. The wine like many Italian wines is mineral driven with high acidity and hints of grapefruit on the nose and palate. What gives it an edge is the suggestion of terroir from volcanic soil combined with that racy acidity.
The bits of seafood are artfully arranged on a white plate, with the region's delicious golden olive oil all around it.  Olive oil is as important – possibly more important – as wine in this area, with the two products supporting the city in terms of exports. The two dishes paired well together, with the wine's acidity cutting through the rich oil with its soft almond flavors and briny seafood.
Next dish up is also very attractively arranged – a bit of fish surrounded by different sauces. For this we were served Cerano 2011 (Cerasuolo d'Abruzzo DOC Superiore) from the producer Italo Pietrantonj.  It is a rose wine made from the Montepulciano grape at 14% alcohol. It is remarkably full bodied for a rose wine, with pronounced tannins and flavors akin to a cherry candy inflused with herbs.  Here the sauces tie the wine and food together.
The next course was a ragout made from sheep, beef, and pork, paired with 2011 Malandrino Montepulciano d'Abruzzo, a lighter textured, yet earthy red wine with vibrant acidity and bright tannins that is a great match for the dish in terms of both texture and accenting the meat elements of the dish.
I am lucky enough to have Luca Panununzio by my side, the head of the sommelier society here who explains the grapes and their history.
The main course is a specialty of the restaurant and the region, stewed sheep with modest spice. For this we enjoy two winea: the Montepulciano d'Abruzzo 2012 from the producer Italo Pietrantonj and the 2009 Reserva from Tori, a delicious full bodied wine with smooth tannins and flavors of ripe red and black tannins. For the Reserva, rhe grapes are destemmed and spend 15 – 20 days on the skins and then 12 to 18 months in French oak.  According to Luca, it can be cellared for six to eight years. From the balance of concentrated fruit, bright acidity, and integrated tannins I share that thought.
From this kickoff dinner, there is much to look forward to with the producer visits to follow.