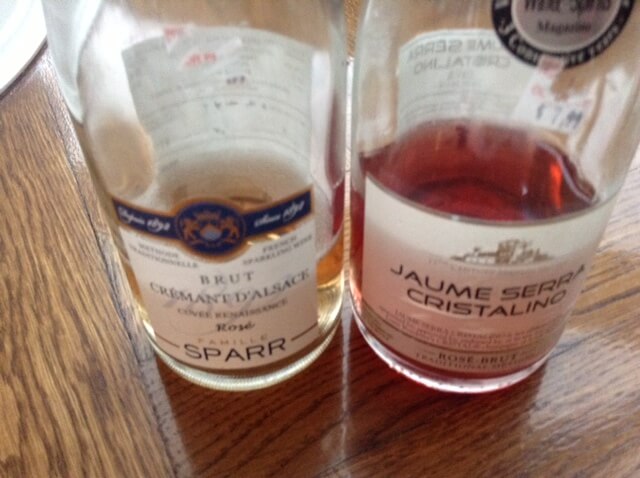 Today was a "sparkling wine" Sunday instead of the more traditional "Champagne Sunday" chez D'Vari, as I had the opportunity to taste two excellent traditional method wines. Both were under $20, and represented incredible quality in terms of an "everyday" fresh, well made wine.
The Sparr Brut Cremant D'Alsace was a light salmon color, and 100% Pinot Noir with a nose of just picked strawberries and raspberries from the field in the height of summer. Very tiny bubbles like the best Champagne. On the palate, ripe very fresh fruit … perhaps a little too fruit-led, with very ripe strawberries almost as if they were a puree. Very high acidity and a certain minerality helped keep it in balance, and the wine had a pleasant tart finish.
Surprisingly, it only has 12 grams/literRS yet tastes a bit sweeter. Alcohol is 12.25 %
Vinification: Whole cluster pressing with the first fermentation in temperature controlled stainless steel vats. The grapes were take from both hillside and valley floor and kept separate in their tanks for six months until they are blended together to achieve the desired flavor. A specific yeast is added to relaunch t he second fermentation in the bottle. Then, incredibly for the price, the wine is  aged 12 months on lees.
Now the Juame Serra Cristalino Cava Rose Brut is made from the three traditional Spanish varities, Macabeo, Xarel-lo, and Parallada, with Tripat added for good measure (and I presume, the shockingly deep pink color). Impressive fine bubbles for a cava, with strong rhubarb notes and a pleasingly concentrated mouthfeel and medium + acidity to balance the 9 grams of RS (surprisingly more than the Alsace).  Checking reviews on Cellartracker, I was not surprised to see a polarity of opinion. Even though this wine has won the Wine & Spirits Magazine award  (as it proudly proclaims on every label) the CT reviews either liked the style or recommended it, in the case of one reviewer, for "watermelon bellinis." Virtually every review mentioned quality for the price ($7).
Though both wines are impressive for the  price, I am curious why they are made in the traditional method, which is basically designed to give a brioche, yeasty aroma and flavors. These two were very fruity and would be difficult to be confused with a true rose champagne. The reason other regions choose to use non traditional methods to make their sparklers is to preserve the crisp fresh primary fruit aromas, such as in the case of Cava. Maybe the marketing people thought "traditional method" would sell more bottles – not sure. Or perhaps more likely, the TM method allowed both wines to retain a crisp dry very pleasant finish.
Thoughts?