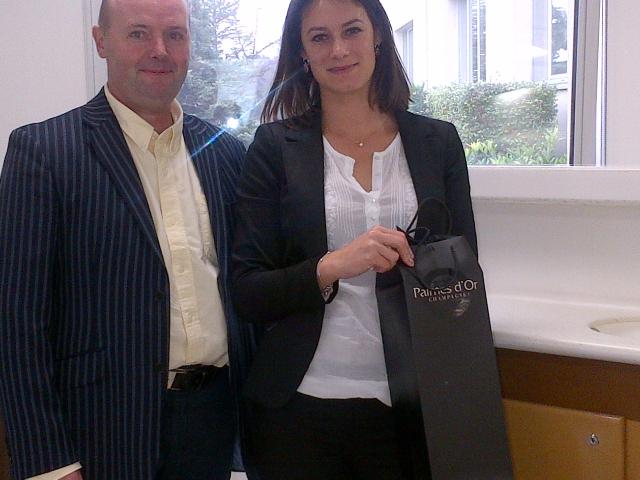 Very excited to have visited this incredible brand in Champagne recently! In fashionable New York circles, Champagne Nicolas Feuillatte is considered one of the best. When I was active in the "JA" group at MoMA in New York (the Museum of Modern Art), after every walk through of a new exhibition participants were treated to a glass (or two!) of sparkling Champagne Nicolas Feuillate Champagne. Dry and very precise on the palate, it was really the sophisticated Manhattanite's choice of Champagne.
At the time, I was just beginning my wine studies yet really responded to the taste and also the packaging of this brand. As I attained more and more wine related diplomas I discovered that though Nicolas Feuillatte is what is known as a "cooperative" of growers, it is actually something of a "super cooperative" in that it takes only the best young cru wines its grower-cooperatives offer, and blends/ages it at its high tech facility in Epernay.
The second thing I discovered is that this brand is named after an actual person, Nicolas Feuillatte, who you can see above. Born in Paris, he had been the biggest importer of coffee in the USA, and rubbed elbows with the important political and arts characters of his day. Looking for a challenge in 1972, he bought 12 hectares of vineyards in Champagne and quickly made a name for himself and his brand (remember the Charisma factor? So important in Champagne!).  In1986 he ceased his name to the Centre Vinicole de la Champagne.
"Today the massive Centre Vinicole Champagne Nicolas Feuillatte is producing excellent wines under Chef de Cave David Henault, an extremely well-spoken, elegant, well-dressed gentleman who is extremely knowledgeable about three key things:  1) the technical aspects of making excellent champagne; 2) understanding the needs of the various factions within the international market 3) understanding how to market the various brands within Champagne Nicolas Feuillatte.
When you first walk in the doors of this Champagne house, you find yourself in a boutique of sorts, with the ability to purchase bottles as well as fun Nicolas Feuilatte souvenirs … this is how famous and well respected the brand is (and yes, I found myself considering some very hip glassware and plates). Before I could whip out my credit card, Alexandra Vialle came to whisk me away for a tour of the caves. If you have ever seen the movie "Willie Wonka and the Chocolate Factory" you can imagine what a high tech setup this can be. "People movers" (sort of a vertical escalator) whisks us up into the heart of the winery, where visitors can see demonstrations of gyropallets and an art museum of sorts of exiting creative labels. As this is one of the largest cooperatives in the world, you can imagine that the fermentation tanks are enormous. The best wines from the best cooperatives all over Champagne come here to be branded under the Nicolas Feuillatte label, so intense care is taken in the fermentation, blending, and elevation process.
The proof of quality control is experienced when I meet Chef de Cave David Henault in person, and we taste through the line, from the modest non-vintage lines to the absolute premium label, Palmes D'Or, with its distinctive gorgeously textured bottle.
Mr. Henault is actually from Champagne and comes from a rural, agricultural family. He received his diploma in agronomy, went to business school in Paris, yet thought a diploma in winemaking would elevate his career.  He worked all over the world (Morocco, Australia, the US) before returning to France and first acting as the assistant to Jean-Pierre Vincent (the former Chef de Cave) and then taking over the role of Chef de Cave.  Interestingly, he credits his international experience for his ability to internalize consumer behavior and consumption patterns within the context of the styles produced.
When asked to define the Nicolas Feuillatte style, Mr. Henault says it is both "simple and complex." Expanding further on this theme, he explains "it is simple because of its complexity. For us, complex means rich in aromas, and the aromas must be perfect integrated which imparts balance, elegance, and simplicity. The remaining words are 'fresh and light.' We achieve the freshness through optimum acidity. Our wines are subtle, radiant, clean, and upfront. We maintain this consistency of style through strategic choices in terms of fruit supplies, blending, and aging."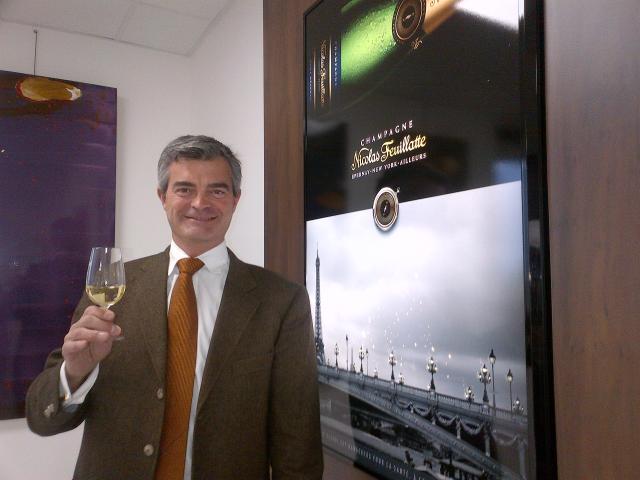 During the tasting that followed, I had the good fortune to meet Olivier Zorel, the new export manager for North and South America who is charged with consolidating and growing the already strong business partnerships in North America and to develop a business base in South America. His past experience include working with Seagrams where he significantly increased sales in brands such as Perrier Jouet and Mumm.
Overall, my impressions during the visit are extremely positive. To produce such quality on such a large scale is quite a serious, time and capital intensive undertaking. And the popularity of this brand speaks volumes for how it is loved in the marketplace. Unlike a still wine, most people want NV sparkling wine and Champagne to taste exactly the way it had in the last bottle. This puts quite a bit of pressure on the Chef de Cave, who must work with reserve wines and young wines from different vintages to make it so. Fabulous visit to what is deservedly a much well-respected Champagne house!