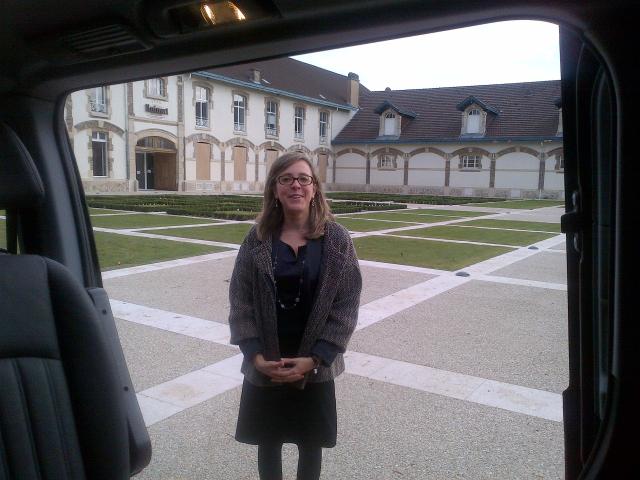 "Welcome to Ruinart," says Helga Barroso, an energetic young woman who speaks excellent English and turns out to be quite the enologist (as well as a brilliant historian). Ruinart is the last, yet certainly not least, visit in a week of visits to many of the Grand Maisons, and I am very excited to see the historic Champagne house as well as experience these very high end wines.
To give you an idea of their rarity and expense, Maison Ruinart has launched the latest vintage of Dom Ruinart Rosé 1998 for around $300.00, and it's the first vintage rosé since the 1996, which was released at the beginning of 2008.
Ruinart Cellar Master Frédéric Panaïotis – and everyone else it seems – is out of town on this bright yet chill October day, so there is a certain eerie quality to this enormous and very classic Champagne house.  With its red brick buildings and lush green lawn, it has the look of a University campus such as Harvard.  Several gardeners are hard at work, and a faint buzzing sound fills the still air as gold and brown leaves fall from the trees.
Ruinart is one of the oldest sparkling Champagne houses, having been founded by Nicolas Ruinart in 1729. Now, I'm not sure about you but some people in life – especially Nicolas Ruinart – was lucky enough to have a fabulous, generous  uncle who believed in sharing. Yet it was not wealth – Dom Thierry Ruinart was a monk, so possibly had little money of his own. What he DID have was a friendship with fellow monk Dom Perignon, and from Perignon learned the mysteries of sparkling wine and passed them on to his nephew Nicolas Ruinart.
Charisma Rules
From my week of visiting various Champagne houses and learning the stories, one thing seems certain about the founders of these magnificent companies – they had charisma. Sparkling wine was a new concept, and the product had to be marketed and sold. Belgium and Holland quickly became key export markets. Later Russia and the United States became more important and increased fame for Ruinart. Yet the 1929 stock market crash, followed by the second world war, created a series of financial problems that only ended with its relatively recent purchase from the LVMH luxury goods group.
One of the most fascinating things about visiting Ruinart, beyond tasting its wine, is the "preview" of what awaits the innocent visitor below stairs. Just imagine, walking into what looks to be a modern building, not at all aware that there is an ancient deep cave (chalk pit) beneath it dating to Gallo-Roman times. This cave has actually been classified a historic monument.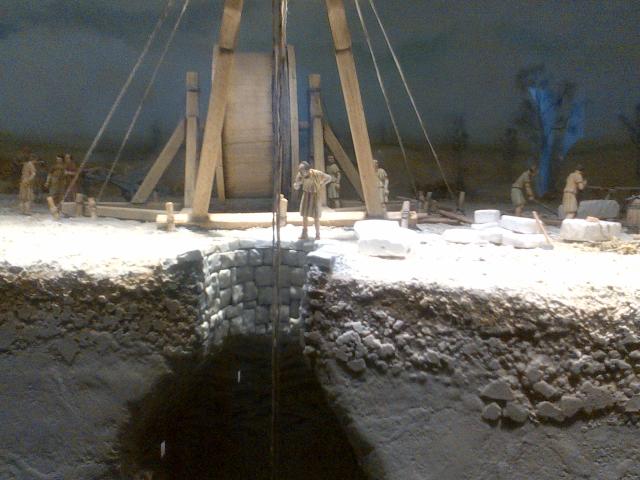 Now the "preview" comes in the form of a reenactment of roman soldiers – or slaves – excavating the chalk quarry where we now stand. Interesting, I never really thought about how caves were dug. Yet according to the reenactment, it was a relatively simple (if slightly) dangerous process of digging into the chalk in a triangular fashion. The picture above tells the story in a very visual way.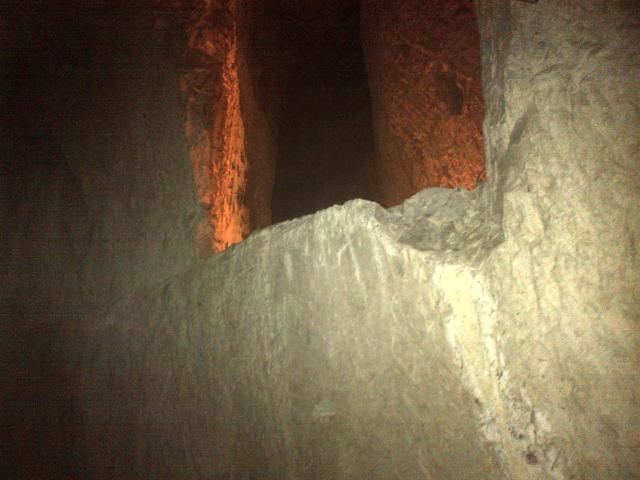 We descend into the caves and it is incredibly magical. One can almost envision those Romans still carrying out the excavation. The cellars have the smell of wet chalk too. And if you take a look at the above reenactment again, look at the staircase where the soldier is sitting. These caves are full of staircases, gorgeous structures that often seem to lead nowhere. Standing here, virtually alone, the "past" does not seem so far away. The caves seem newly built.
And today there is an added surprise in that the cave walls are being cleaned and are shinning very white. Cleaning cave walls is not something that happens very often … possibly every few decades or even every half century, so it's exciting to be here for the experience and see the grey walls juxtaposed with the shiny clean white walls.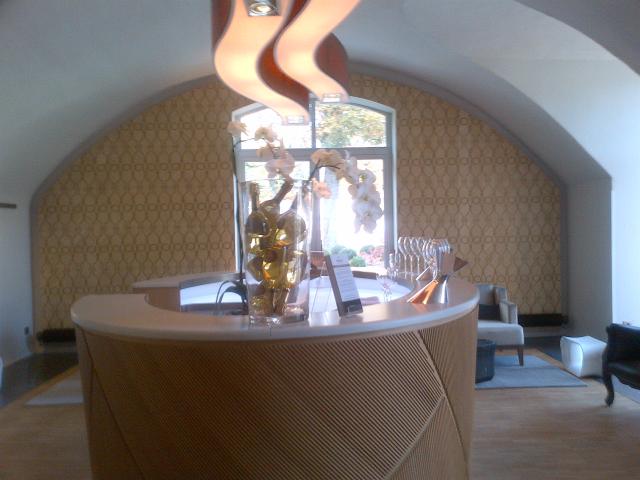 The tasting room is gorgeous, with lots of symbolism embedded in the tasting room bar (the grooves represent vineyards). It is a bright, well-lit space with signature glasses specially designed for Ruinart by a famous sommelier designer.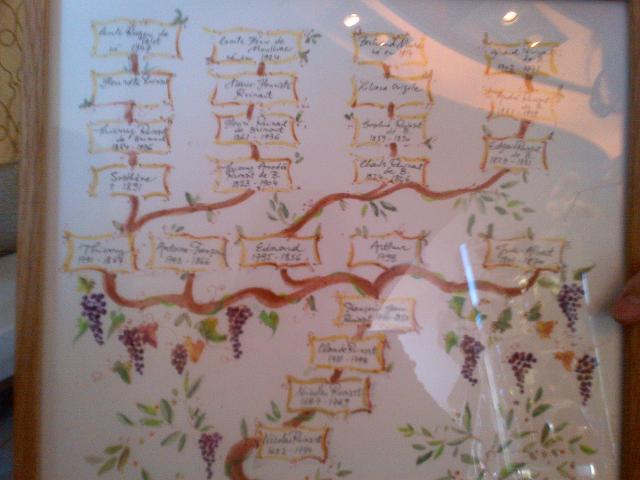 The family is very interested in art, as you can see from the beautifully designed family tree above. They are also very active in commissioning art, and active in international art fairs and exhibitions.
You can find out more on their web