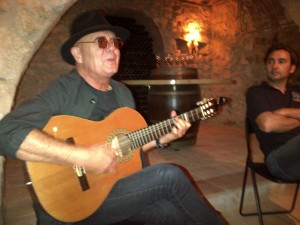 Catalonia: A Land & Culture of Its Own
Think Barcelona is in Spain? Technically, this is correct.  Yet during a June trip to Catalonia's incredibly diverse wine regions I realized that Catalonia is very much its own independent region with its own language, cuisine, and highly diverse wine culture.
While most Catalonians do speak Spanish, they will always speak Catalan among themselves. Virtually every home has the red and yellow Catalan flag flying proudly from its rooftop. Television stations in the region broadcast in the Catalan language, and throughout the region your morning breakfast will consist of toasted bread and a roasted tomato – the traditional Catalonian dish. Experiencing the culture of Catalonia, and the fierce … almost intense … pride Catalonians take in their culture is an important wake-up call for educators and sellers it is crucial that we convey the culture of Catalonian wine in our conversations and highlight the unique qualities of this beautiful and diverse region.
Cava: A Variety of Styles

The diversity of Cava is surprising, incorporating many varietals and styles. Francisco de la Torello of Torello Cava (established in 1395) in Sant Sadurni d'Anoia created a brilliant "Cava and Jamon" (ham)  wine pairing dinner to showcase these styles, pairing the Cavas (traditional, modern, mature, rosè, etc) with many different styles (spicy, savory, etc) of Catalonian Jamon.  In a similar fashion, Jeci Llopart, the young dynamic spokesperson for her family's Llopart winery, also created a food and wine pairing dinner that let guests match the variety of house-produced Cava styles to traditional Catalonian dishes.
Xarel-Lo: Hot New Trend

Virtually every producer now offers a 100% Xarel-Lo Cava or still wine.  Oriol Bargallo and Jordi Fernandez Davi of Pares Balta and I hunkered down to taste Xarel-Lo examples at their VinExpo booth, with the Calcari produced from grapes grown in limestone soil based vineyards and stainless steel fermentation. The other 100% Xarel-Lo, Electio, is fermented in new French and Hungarian oak barrels, very full and rich.
Organic & Biodyanmic Winemaking
Arriving at the Cava Recaredo vineyard one easily can fall under the spell of Ton Mata, owner and enologist , now passionately embracing biodynamic winemaking. Argue as one might about the merit of packing manure in a cow's horn, the proof is in the fresh, vibrant taste of the Cava from his rather glitzy showcase winery (in contrast to the rather bucolic vineyards).
The Trendy Region of Priorat
A highlight of any trip to Catalonia is a visit to soaring hills of Priorat, just a few hours from Barcelona. This visit, Albert Costa Miralbell of Cellar Vall Llach drove me to the very top elevation of his vineyards, where I could stomp on the black llicorella soil and experience the intensely high elevation that makes this wine so fresh. Later, Richard Rofes Salsench from the (ancient) Scala Dei Cellars gave me tastes of his wine from barrel that tacitly explained why wine from this region is so prized.
Large Family-Owned Wineries: Torres
Though the majority of wineries in Catalonia are small, family owned operations, visiting the Torres winery in Catalonia was almost like a visit to Disneyland with its enormous facility which includes trams to transport visitors to the various areas, such as fermentation tanks and maturation cellars. Miguel Torres Jr. was on hand to explain the goals and objectives of this family-owned winery, which is increasingly focused on making wine as naturally as possible and environmental issues.
Catalonia: Sand, Sea, Mountains … and Fine Wine
Exploring Catalonia and its rich culture can be enormously beneficial to educators and retailers alike. The simple diversity of Cava with its myriad of styles can change how one views this sparkling beverage. Yet Catalonia is so much more than Cava. The rich, age-worthy wines of Priorat, the determination of families large and small to create premium wines while preserving the environment, and the natural beauty of the area are simply awe inspiring.