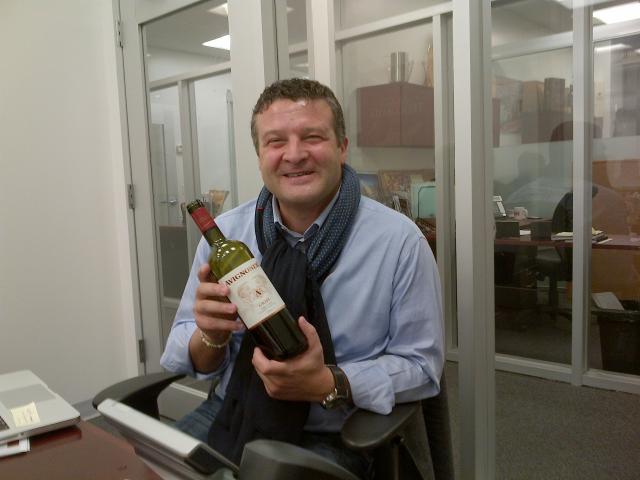 Very interesting evening yesterday at the offices of Colangelo PR in New York City. They invited Giuseppe Santarelli, North American Manager for Avignonesi, to speak about the changes at Avignonesi now that Virginie Saverys has purchased the winery after two years as a silent partner.  One of her goals was to convert all vineyards to organic viticulture and obtain organic certification.
Of course, organic wine is very trendy these days, and conversion could be quite expensive. "Can you charge more for the wine if it's organic?" I asked.
Surprisingly, Giuseppe said that money had nothing to do with it … Ms. Saverys was just committed to being organic because she thinks it is the right thing to do.  She has also implemented biodynamic agricultural practices – not an easy task since the number of vineyards has grown to 140 hectares between the Montepulciano DOCG and Cortona DOC appellations.
There is also some rebranding going on, as the winery has a stellar reputation in the industry and the winery is updating their branding materials to reflect the communication philosophy of Avignonesi. Checking out their web site, I was pleased to see that the 2010 Vino Nobile di Montepulciano DOCG made Wine Spectator's list of top wines of 2013. I was able to try some … it is made from 100% sangiovese grapes and spent 18 months in old oak.  Flavors included a wild, sappy cherry and sweet spices, very balanced acidity and velvet tannins.
Other wines that night included a Rosso di Montepulciano, very pure cherry fruit, and two "definitely dinner" wines that would pair fabulously with steak, the "super tuscans" Grifi Toscana IGT2010  (60% sangiovese and 40% cabernet savignon) from old vines and 16 months aging in French barriques, and the Desideiro Cortona DOC 2010  (85% Merlot and 15% Cabernet Sauvignon) that spent 16 months in French barriques. Both wines were extremely rich and – to me – buy and hold and enjoy in about five years time. Incredible concentration of fruit on both wines, and intense complexity and finesse.
Giuseppe is a fun guy and great raconteur who clearly loves his job, and does a fab job of communicating what the wines of Avignonesi are all about.