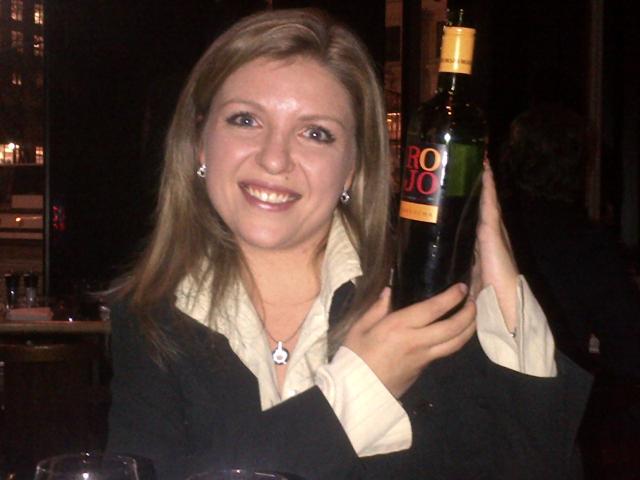 Great meeting last night with Tatiana Kohlodova of Bodegas Navarro Lopez and Vina Valoria, the Russian-born export manager for these two Spanish wineries.  The owner of Bodegas Navarro Lopez are Francisco Navarro Lopez and Jose Vincente Navarro Lopez.
The winery was founded in 1904, producing over 160,000 liters of wine by the 1930s.
The Spanish Civil War changed the family's fortune, and fast forwarding into the 1940s, the family sold whole vintages in barrels to Madrid. By the 1980s, the last living original family member sold to the current owner, Don Doroteo Navarro Donado.
Don Doroteo revitalized the winery and vineyards, bringing forth the quality I experienced at the tasting.
The bodega produces an assortment of wines that are imported into the United States, including the moderate priced GranRojo label (100% tempranillo and 100% garnacha) as well as the Old Vines label (crianza 100% tempranillo,, reserva 100% tempranillo, gran reserva 100% tempranillo,) and the Vina Vallria label (crianza 100% tempranillo, reserva 100% tempranillo, Vintage cosecha 100% tempranillo.)
Both the Old Vines and Vina Valoria labels produce excellent wines, and I especially liked the reserva and gran reserva of each, which showed incredible concentration of fruit and very traditional winemaking. Export manager Tatiana is a delight – she speaks several languages (Russian, Spanish, English) and says the most important thing about her job is the ability to be flexible. She was kind enough to bring along a 2001 and 1982 gran reserva so I could experience how well these wines can age … they were extremely well made.