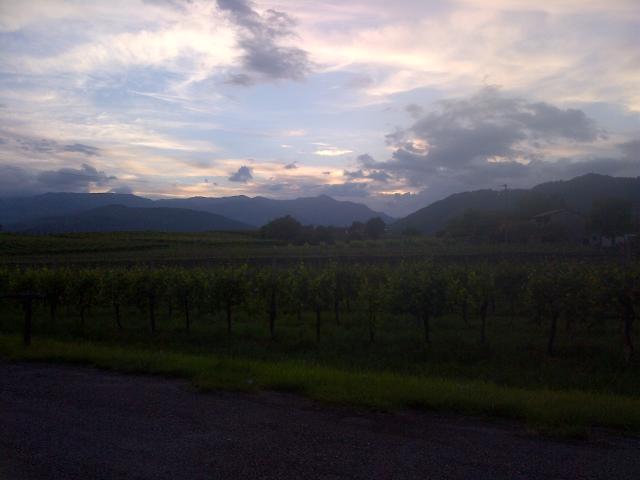 "Prosecco?" the gentlemen asks, a bit startled by my question about it's "image."  "It's sexy, cool, a fun sparkler to order in a bar," he responds.
Yes, Prosecco today has a super sexy image, and why not? It has that great Italian name that rolls off the tongue and conjurs up images of romance, an exotic locale, and a charming, good looking population.
Yet there is more to Prosecco than its image … Conegliano Valdobbiadene is the most prestigious area for production of Prosecco, as it is the location for Italy's first school of Oenology (founded in 1876) and the Research Institute for Viticulture( established 1923).  In 2009, the Conegliano Valdobbiadene area obtained D.O.C.G. status, the highest recognition for quality Italian wines, which called for a change of name to "Conegliano Valdobbiadene Prosecco Superiore."
People like the gentlemen above, who walk into a bar or restaurant and order Prosecco, without expressing the desire for Prosecco of D.O.C.G status, are not receiving the very best that the Glera grape (the basis of Prosecco) and the unique D.O.C.G. can offer. For example, just regular DOC Prosecco can be grown anywhere, very typically on fertile flatland where bulk production is the name of the game. To qualify for D.O.C.G. status, the terroir is usually quite unique, with vineyards typically on the hillsides with elevation that makes for fresher acidity and riper grapes. During a recent visit to the region, I even survived a walk through these hilly vineyards in high heeled sandals (sorry, I was not expecting a terroir visit!)
In any event, you can read about some of the producers I met here.
One of the exciting events is that the Conegliano Valdobbiadene region is now hard at work in preparation for Unesco recognition to become a Unesco World Heritage Site.
Visiting this region, as you might read from my blog, was an eye-opening experience. The topography is incredible, with green rolling hills everywhere. The Veneto's greatest landscape painters came here to create their masterpieces. And the producers are extremely friendly and welcoming — it's as if they can't wait to tell the world about their incredible terroir.
If you take the time to read through my experiences and my visits in the link above, I hope that when you take your next glass of Prosecco DOCG you will recognize that it's not simply a sparkling beverage, but a wine in the truest sense of the world with a sense of terroir. You can find an even greater sense of terroir in the new "Rive" category, made exclusively from vineyards in specific micro-zones, like Cartizze, the Grand Cru of the demomination. It is a zone of very high hills (yes, I climbed them!) lying between three hamlets in the commune of Valdobbiadene.
Ok, that's it for now … yet be sure to check back with more news from this region and its exciting developments!