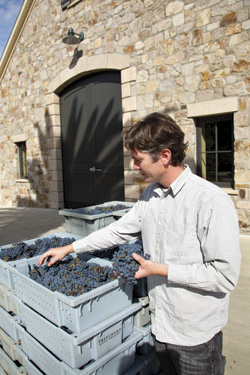 So during Master Napa Valley program for sommeliers and Master of Wine students I had the opportunity to explore the new focus on single vineyards in the Napa Valley – quite a key trend.
Recently winemaker Mario Monticelli visited New York to showcase Trinchero's new single vineyard wines.
He was brought in by the Trinchero family to start this new program in 2007. Prior experience at small family-owned and -operated wineries and a consulting opportunity with Napa guru Philippe Melka, made him the right man for the job.
These new single vineyard wines showcase Bordeaux varietals in the spotlight of Napa Valley esteem, while adhering to the principle of over-delivery on value.
The 2010 Cloud Nest is a very high elevation wine on Mt. Veder … very dark and intense, it drinks well now yet can benefit from another five years of aging. Lots of cassis and earth along with ripe dark fruit.
The 2011 Central Park West (named after the street of the family's first apartment in NYC) has layers of expressive dark, red fruit, mocha, crushed flowers and spices.
The 2011 Haystack vineyard was earthy, pungent, with lots of ripe red fruit and acidity.
Choosing a favorite is like choosing a favorite child, yet the high elevation Mt. Veder wine was really extraordinary!