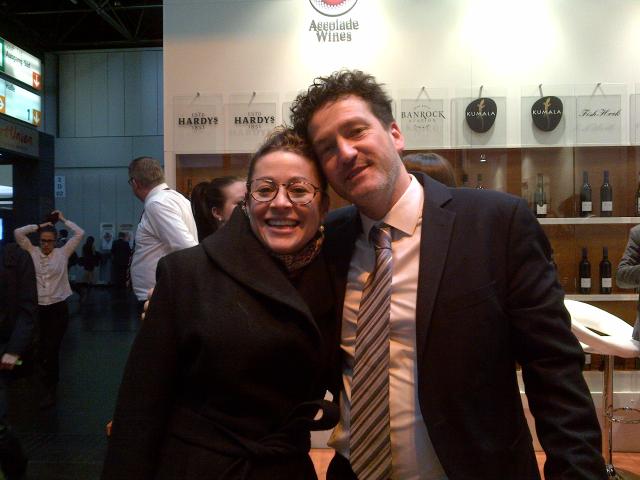 "I do not even bother going to other fairs," said a Loire based producer, explaining in detail what was so great about ProWein.
This year I arrived on the final day of March 25 2014, after all the bells and whistles of the opening and Drinks Business opening party. I feared the mood would be fatigued … yet surprisingly the energy was buzzing! Sensing a possible lull in the storm, I took the opportunity to have great conversations with producers.
This is the 20th anniversary ProWein, International Trade Fair Wines and Spirits and my second time. From my conversations with producers, it is their favorite fair because they can meet everyone necessary without traveling around the world, several bottles in hand.
For me the adventure began at breakfast, when after an overnight flight from NYC I had the good luck to meet Daniel Pasalic, Brand Manager of the Prime Wine Group in Sweden, who explained the mysteries of how producers get into this exacting market. Breakfast at a hotel near the ProWein convention center was electric with people connecting from all over the world … everyone here with a shared interest and driving intensity.
According to ProWein officials, ProWein, not only transformed the exhibition center but also the entire city of Düsseldorf (Germany) into the international wine and spirits capital of the world. The energy, even on the last day, was pulsating. I asked many exhibitors about what they noticed and most said the influx of Asians and also people from Russia and other Eastern European countries.
Then of course there was the opportunity to taste through various lines. Matthias Baltes of the Ahr consortium of Winzer tasted me through his range of Pinot Noir wines from the youngest unoaked to the more expensive wines typically aged in very large neutral oak vessels with the top wines aged in white American oak or at the very top small French barrique. Ahr is very hilly and also small so the consortium for now has no plans to go organic as it would require several trips to the impossibly steep hillside to spray the biodynamic way, which I understood to be several times (16 comes to mind) instead of fewer. Also pulling up weeds by hand on steep vineyards can be a challenge.
From Mathilde Nicolas of Domaine Faiveley I learned a lot about the vinification of their wines which includes as much as fifty percent of new oak on grand cru and typically 30 percent on first cru. I also tried these wines the week before at Les Grands Jours
I had a lot of fun speaking with Jean-Louis Mourre of Les Vignobles Mourre and Jerome Castillon of Chateau L'Ermitage. They are members of a group of eight Rhone families united by their focus on terroir and a chance meeting in 2005 at VinExpo when they thought banding together made sense.
Jack Glover, Sales and Marketing Manager of Accolade Wines, says that he appreciates ProWein because it is a more efficient way of meeting with clients as opposed to visiting different countries carrying several bottles of wine. Also in the last hours of the last day he can take a few moments to taste wines such as vintage port he can rarely taste in New Zealand.
Excited to attend next year!