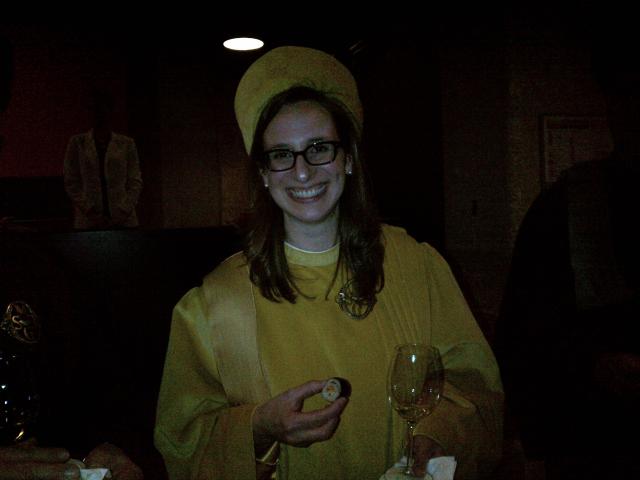 It was so much fun to see my friend Aline Baly of Chateau Coutet all decked out in a yellow robe for the Ban du Millesime de Commanderie Du Bontemps on April 2, 2014 in Bordeaux.
This celebration, first held in 2000, is the Vintage Proclamation and the newest event of the Commaderie du Bontemps.
This Ban du Millésime was initiated by and for the merchants, who belong to our Commanderie and is organized in collaboration with the Bordeaux Union des Grands Crus. It gathers all the principal merchants in Bordeaux, and customers and friends are also invited. At the dinner, always held in a prestigious setting in Bordeaux, several châteaux take the opportunity to present the new vintage before French and international journalists.
The location this year was a historic building called the "C.A.P.C" – the Musee d'Art Contemporain.
I was invited by the generosity of my hosts, Renaud and Laurent Mommeja, who are members. It was a fabulous evening with great wines and conversation, not to mention incredible cuisine. Also very pleased to see newly minted member J.J. Dubourdieu, who also looked fab in yellow!