"Welcome!" says amiable, dark-haired Eric Larramona, appearing beside the magical gate of Chateau Lafaurie-Peyraguey. M. Larramona oversees the vineyards at this magical first growth Sauternes estate with its varietal of terroirs. It is my third visit to this historic estate, and my first time with a room that has a bathtub overlooking the vineyards. The rooms here are all gorgeously appointed to replicate the elegance of previous centuries, yet realistically, modern touches (such as running water and vehicles that can quickly take you into town) make me feel as if life here is better today. I am also excited about this visit as I will be meeting Sylvio Denz, the new owner, and hear his plans for the Chateau. Various articles have suggested he plans to convert some of the parcels reserved for sweet wine to dry wine, which reflects a growing trend in the area. I've also read that he may turn the chateau into an elegant inn, yet all this remains to be seen. M. Denz is the chairman of the elegant glass and crystal manufacturer Lalique, yet he is also the proprietor of Chateau Faugeres in St Emilion, a region where he also owns a share of Chateau de Rocheyron.
As I write this, Eric drives me to Chateau Guiraud where we will attend a tasting and welcoming party. As we pass by the vineyards of Chateau Lafaurie-Peyraguey, I ask about the soils and find they are gravel and clay, with each parcel having different compositions. Within a few minutes, we arrive at Chateau Guiraud, an enchanting estate I've visited many times in the past, with one idyllic memory of an afternoon greeted by strutting peacocks in the courtyard on a bright sunny day. Tonight many guests are invited to Chateau Guiraud to taste the 2013 vintage of all the wines belonging to this consortium of four lead by Robert Peugeot, Stephan von Neipperg of Chateau Canon-La Gaffeliere in St. Emilion (along with other estates), Olivier Bernard of Domaine de Chevalier in Pessac-Leognan, and Xavier Planty, long time director of  Chateau Guiraud. I greet familiar faces and taste the 2013 vintage then stroll into the main reception area, where one can taste older vintages of wines from this consortium, including Chateau Guiraud from the 2011 and 2008 vintages, and a fabulous 2006 Domaine de Chevalier rouge. During the reception I also meet Xavier Planty, a very charming man,  as well as a group of sommeliers from a very high end resort in the Maldives.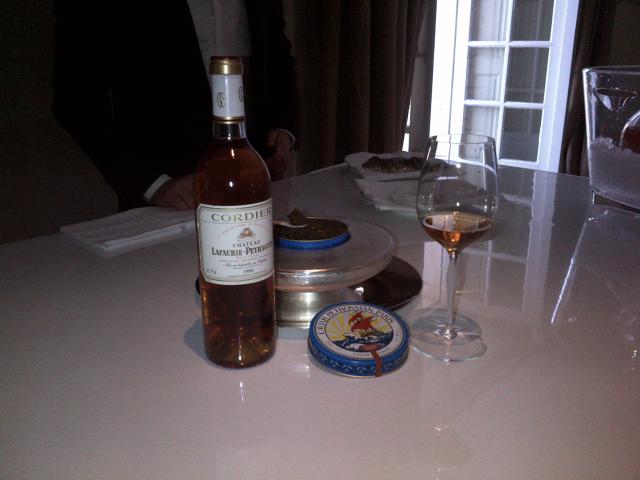 The reception for Sylvio Denz the following morning at Chateau LaFaurie-Peyraguey is a very elegant affair, with Chateau LaFaurie-Peyraguey wines from 2008, 2005, and 1998 paired with oysters, lobster, and caviar at various stations. The day is bright and sunny, with guests taking full advantage of the sun-filled patio overlooking the vines. I have the good fortune to meet the very elegant and well spoken Mrs. Rita Denz, who has only seen this Chateau a few times. In a short speech in French, Mr. Denz greets the guests and explains his goals for the Chateau, which as has been reported earlier is to enhance quality and also increase the production of dry whites.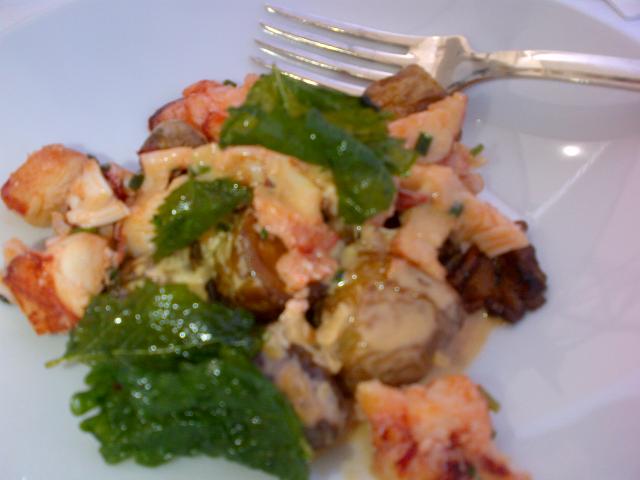 The technical details are somewhat typical for the region: Vinification of the wines takes place in fine grained oak barrels with 40 to 70 percent new wood, depending on the vintage. Fermentation takes place at 17 to 25 c for 18 to 30 days, depending on the batch and aging takes place in French oak barrels for 20 months.