"Welcome!" is the greeting from the charming Mommeja brothers, Renaud and Laurent, as they welcome me into their incredibly restored chateau that dates from the 18th century, and is designed to replicate the period … yet the original owners, I am sure, never had such incredible luxuries!
If you have ever been in the Louvre museum in Paris and visited Napoleon's apartment, you might have an idea of the luxuries that can be found at Chateau Fourcas Hosten, except this chateau is so much more luxurious with its careful attention to every possible detail. Every single painting, column, place setting, tableware, is breathtakingly gorgeous.
Renaud and Laurent Mommeja acquired the chateau during the 2006 vintage after a long search. The property, which before had been owned by an American syndicate headed by Peter Sichel (of Blue Nun fame), had everything the Mommeja brothers had been looking for: fabulous terroir for making excellent wine, and a chateau they could lovingly restore and turn into a showpiece.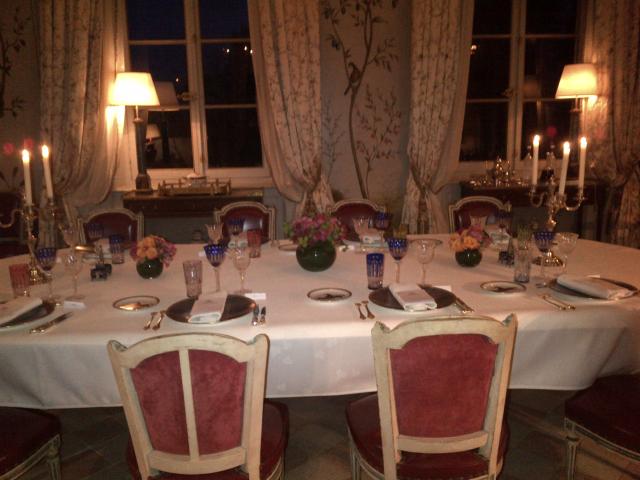 Above is the table elegantly set for Thursday night dinner, and below …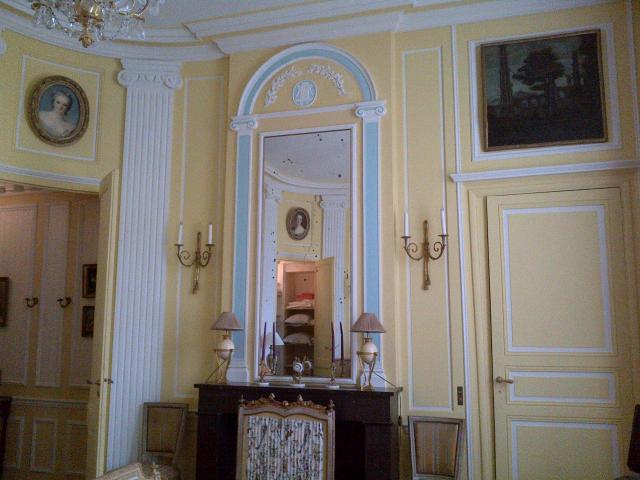 … the bedroom where I was lucky enough to sleep! Though I have been a guest in many of the great chateaux in Bordeaux over the years, this was absolutely the most lavishly decorated and well staffed.
Though it would be nice if the Mommeja brothers could live here, Laurent lives in Paris, and Renaud lives with his family in Toulouse. They are both very active in the Bordeaux community, however, and are members of the Union des Grands Crus de Bordeaux, the Academie du Vin de Bordeaux, the Commanderie du bontemps Medoc, Graves, Sauternes, et Barsac, and have won the "Best of Wine Tourism 2014."
The night I arrived, they were kind enough to escort me to a dinner at the Commanderie du Bontemps where I saw two of my best Bordeaux friends, Aline Baly of Chateau Coutet, and J.J. Dubourdieu, inducted into the Commanderie.
The following day, Technical Director Caroline Artaud took me into the newly remodeled winery, so incredibly clean and gorgeous it could be the setting for an elegant soiree. Gleaming stainless steel tanks of various sizes (so as to vinify specific parcels) as well as state-of-the-art cement tanks, looking as stylish as a cement tank could possibly look! I asked Caroline about this, as I've been reading that cement tanks are coming back. An excellent explainer, Caroline said that cement tanks take a very gradual approach to heating up and cooling down, while temperature controlled stainless steel accomplish this in a very fast fashion. As you can see below, the barrel room looks like it can be in a movie set.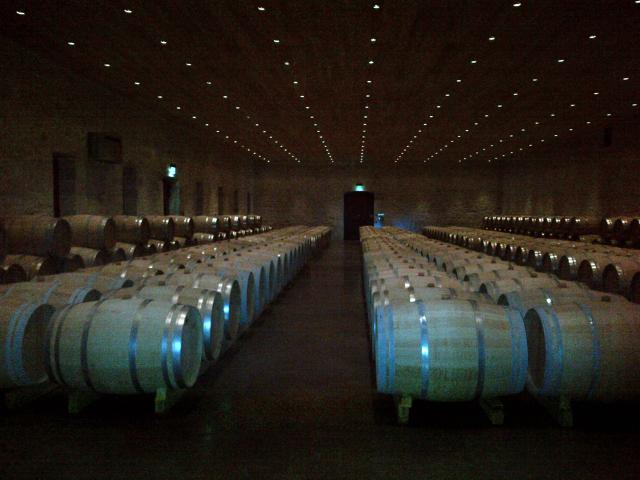 I should mention that though this is an independent venture, the Mommeja brothers are of the family that owns Hermes, and both have worked in the luxury arena for quite some years. So it's not surprising that the tasting room is incredibly gorgeous as you can see below.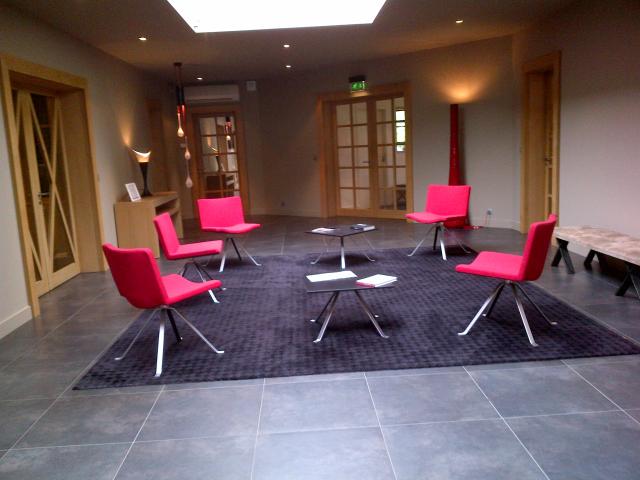 And now, it is time for the tasting. Caroline selects the 2010, 2011, 2012, and 2013 vintage to taste …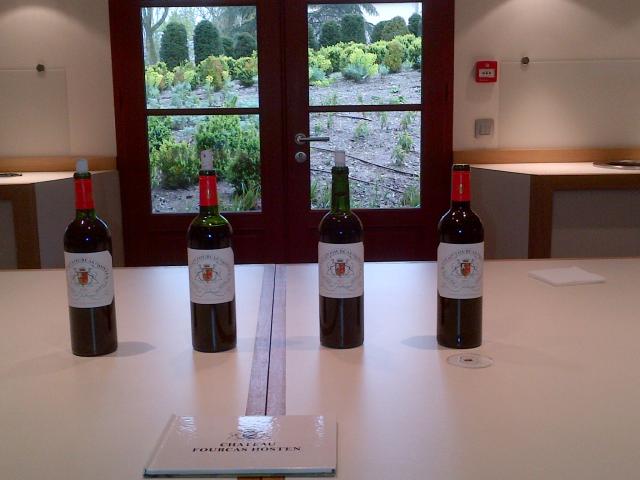 I actually tasted the 2013 vintage blind earlier that day, and it received one of my highest scores for Listrac-Medoc with its rich, ripe concentrated boysenberry fruit and keen balance between fruit, acidity, and restrained oak. The 2010 in this lineup was excellent.
At dinner that night, we were joined by Thierry Desseauve of Bettane and Desseauve. I have known Michel Bettane for many years so it was great to meet Thierry. We were joined by Renaud's vivacious wife Cecile and other guests and had a fabulous dinner that included both the Chateau Fourcas Hosten 2010 and – incredibly – the Chateau Fourcas Hosten 1990.
"Did you taste the wine in the cellar to see how long it could age before you bought the property?" I asked, incredulous at how fresh this wine was after 24 years. According to Caroline, the secret may be the gravel soil where the Cabernet Sauvignon is planted.
I should mention that Eric Boissenot is the consulting oenologist … besides being one of the most respected oenologists in Bordeaux, he is also a photographer and had been featured in an exhibition created by Henri Lurton of Brane-Cantenac.
This was such an amazing visit in so many ways, yet what I remember along with the freshness and quality of the vintage is the charm and hospitality of Renaud and Laurent, along with Caroline Artaud and Sales and Marketing manager Sophie Solnicki-Thierry.
You can read more at http://www.fourcas-hosten.com