The tasting at Cheval Blanc on April 1st was extremely well-attended, drawing journalists from all over the world as well as key figures in Bordeaux such as Kees Van Leeuwn, a celebrated author and professor at Bordeaux Agro.
What was different this year, however, was the headline in the little red information book which began "The 2013 Vintage: A Minfield." In the paragraphs that follow, it is explained that in tricky vintages the great terroirs stand out, and that this – along with the excellent team that includes M. Lurton and Technical director Pierre Olivier Clouet, was what helped the vintage survive. M. Clouet was able to spend quite a bit of time with me, explaining the factors that helped the 2013 including the gravel and clay soils that achieve full ripeness before most other soils in Saint-Emilion, the way these same soils regulated soil moisture despite high rainfall, resulting in water stress that allowed the grapes to attain good concentration, the green harvest at the end of veraison, and the highly exprienced team.
All the parcels were vinified separately, with the best parcels making it into the final blend.  I was also able to speak to M. Lurton who felt the 2013 reflected the style of the Chateau with its elegant, rounded tannins.
I was also able to speak to the elegant Sandrine Garbay, Maitre de Chai of Chateau d'Yquem, about the 2013 vintage. As a Sauternes lover, I found this wine fabulous!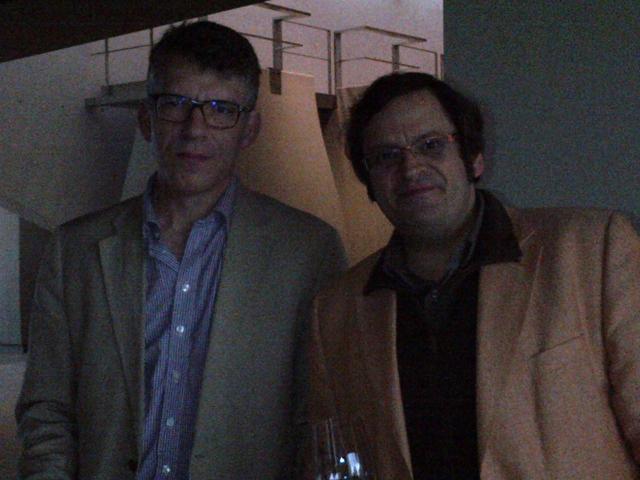 Above, Decanter's Adam Lechmere and freelance Panos Kakaviatos.