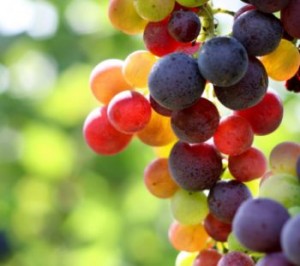 Wow! What a fantastic week I'm having here in New Zealand, beginning from my experience in Auckland with the lovely fall weather and dinner at the super fantastic Peter Gordon restaurant with its fabulous views of the pink and purple sunset oer the water, to the spectacular experience offered by Air New Zealand, recreating the airline wine list for Travel Classics journalists.
And of course, there was the first day's walk of Auckland's attractions with a guide who really brought the history of the region to life.
Now I am in Wellington … it is my first day, and I so love it! Perhaps it has something to do with the energy of the city. Coffee shops are everywhere (which might explain the literal buzz) and as I eat a delicious breakfast from Hippopotamus restaurant overlooking the bay, everyone below seems to be rushing somewhere exciting.
This fabulous restaurant is located within the very eclectic Museum Arts hotel, owned by a presumably wealthy gentleman who uses it to house his extensive modern art collection. The lobby is ultra cool – think back to South Beach's Delano hotel when it first opened. Chandeliers are everywhere, and Maori symbols adorn the plush carpet. Right now, as I write this, people lounge about drinking wine and talking about film, which I discover is a huge business in Wellington.
My room is super fabulous …. apparently there are "apartments" here as well as hotel rooms, with the apartment being a bit larger which I never use in this foodie-oriented city.
Today, for example, I embarked on a short tour to discover what this food scene in the city was all about. My guide was "Fabs" (short for her name Fabian) who works for an operation called "Zest Food and Wine Tours." She promptly whisked me off to visit the Mojo coffee facility, where a master roaster taught me the secrets of her trade, then off to a gelato place featuring passion fruit and other exotic flavors, then a new chocolate shop where the owner (a former pastry chef) interacts with chocolate producing nations around the world to buy raw cocoa beans and turn them into the chocolate we all know and love ….
… finally culminating into a visit to a fine food store used by professional chefs as well as home books, another coffee sthop called Flight Coffee Hanger where I learned how to "cup" coffee (slurping is not only allowed but encouraged!) and a beer and food pairing at Malthouse.
I must say, that one of the most interesting visits of the day was the lunch and tour at the Te Papa Tongarewa museum, where our part Maori guide Phil gave us a fabulous introduction into this culture where green jade rules (it is magical, and must be given to you – do not buy it yourself!) and tattoos are sacred. A specially created lunch included traditional foods such as delicious muscles with seaweed, Rewena bread (potato based), and sweet potato fries.
However, all said, the NZ scene is just so cool! Last night was Sunday, and therefore low key, yet dinner at Hippopotomus was such that I felt as if I was back at a top restaurant in Paris! The French waiter approached with a Champagne cart, and we choose the brilliant vintage of 2002  Roederer champagne. The cuisine was very precise and delicious, and equaled the view of the bay.
More to follow!