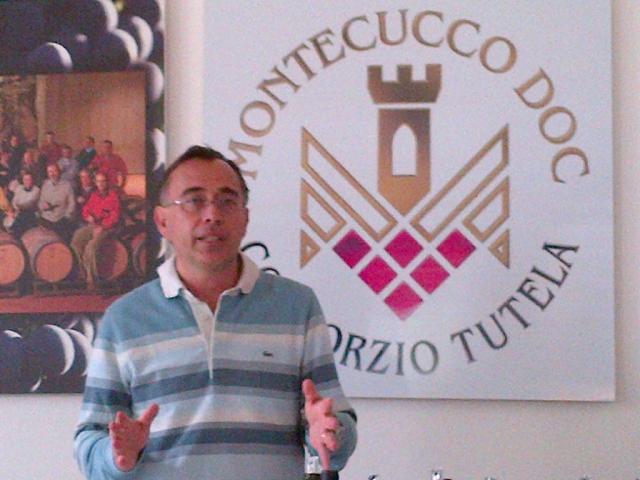 Since the 2011 Vintage, Sangiovese produced in Montecucco can bear the DOCG label if certain specifications are kept, such as at least 90% of the grapes must be Sangiovese and the wine is aged a minimum of 12 months in wood and six months in bottle.
However, many producers go beyond this, aging the wine for longer periods and often including 100$ Sangiovese.
The white wine of the region is Vermentino, which takes form in different styles (stainless steel and aged in oak) and even rose wine is produced, which typically has the pretty orange-red color of a tangerine.
The Consortium recently had a tasting of several wines from its fifty-five members, with brief notes listed below.

Martinelli Montecucco Rosso Doc Marinelli 2011

– Fresh fruity well structured wine with pure dark cherry fruit and hints of dark  chocolate.

Palmoletino di Doltti Erika Montecucco Sangiovese 2011

– Seductive dark cherry and milk chocolate flavors along with elegant structure.

Montesalario Montecucco Sangiovese DOCG 2011

– Rich notes of brandied cherry and dark melt in your mouth chocolate firmly structured.

Tenute Folonari Montecucco Sangiovese DOCF 2011
– Delicious cherry flavors and well-balanced acidity and tannin.

ColleMassari Montecucco Sangiovese Rigomoro DOCG 2011

– Powerful well structured wine with firm ripe tannins and notes of chocolate covered cherries.

Vegni E Medaglini Montecucco Sangiovese DOCG L'Addobbo 2011

– Firmly structured wine with weight and power along with red cherry and chocolate notes

Villa Patrizia Montecucco Sangiovese DOCG Istrico 2011

– Very complex well balanced wine with layers of different styles of cherry (red, black) and chocolate (milk, dark).

Amiata Montecucco Sangiovese Lavico DOC
2010

– Concentrated rich cherry fruit with lifted fresh acidity.

Piadibubnano Montecucco Sangiovese DOC L'Erpico 2010

– Sweet tangy dark chocolate covered cherries with lifted long finish.

Poggio Di Spinelli Silvia Montecucco Sangiovese Sass'Alsole 2010

– Vibrant ripe cherries with jaunty acidity

Poderi Firenze Montecucco Sangiovese DOC Sottocasa 2010

– Wild red cherrys and highly structured tannins with violet floral notes.

Poggio al Gello Montecucco Sangiovese DOC Rosso del Gello 2010

– Fresh picked from field strawberries and cherries with earthy notes. Savory.

Poggio Mandorlo Montecucco Sangiovese DOC il Guardiano 2010

– Vibrant jaunty acidity and intense, assertive flavors of wild red cherries and anise.

Prato al Pozzo  Montecucco Sangiovese DOC Arpagone 2010

– Sinewy red fruit with lifted acidity and many layers of flavor (nuances of different types of both cherries and chocolate).

Salustri Leonardo Montecucco Sangiovese DOC Grotte Rosse 2010

– Spiced cherry fruit with vibrant fresh flavors and complexity

Podere Assolati Montecucco Sangiovese Riserva 2010

– Pleasant chocolate covered raisin profile and lifted vibrant acidity along with a deep core of red cherry fruit.

Begnardi Montecucco Sangiovese DOC 3iserva Pigna Rossa 2010

– Mouth filling dusty bramble and red cherry fruit profile with firm structured tannins.

Colle Massari Montecucco Sangiovese DOC Riserva Poggio Lombrone

– Chewy deeply textured red and black cherry fruit with fennel.

Basile Montecucco Sangiovese DOC Ad Agio 2009 "Translation as you like"

– Well balanced intensely structured yet vibrant pure beam of red cherry fruit with milk chocolate finish.

Peteglia Montecucco Sangiovese Riserva 2009

– Intense floral aroma of red flowers and very well balanced notes of bright red cherry with lifted acidity.

Tenuta Impostino Montecucco Sangiovese Riserva Viandante 2009

– Delicious spicy well balanced wine with flavors of savory stewed tomatoes and very ripe seductive cherry

Tenuta Impostino Montecucco Sangiovese Riserva Viandante 2009

– Juicy red cherries (mix of red, black, ripe. dried. Tart) and chewy tannins.

Pierini E Brugi Rosso Riserva Montecucco 2009

– Ripe savory  flavors of wild sage, ripe cherries. And herbs.

Poggio Stenti Montecucco Sangiovese Riserva DOC Pian Di Staffa 2008

– Juicy ripe uplifted acidity and layers of rich ripe cherry flavors generate instant appeal.