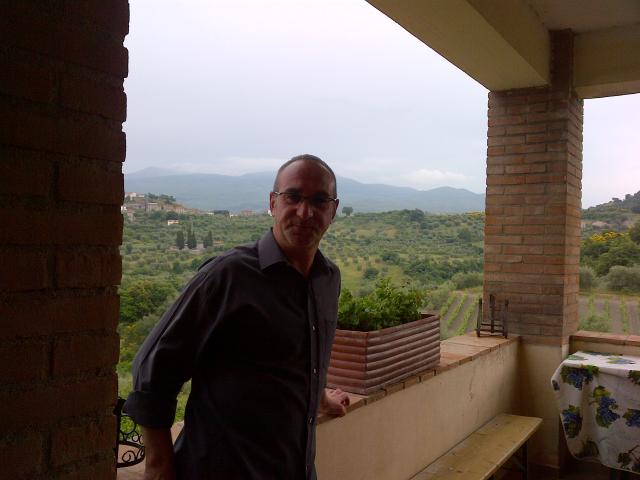 It was such a pleasure to meet Simone Tonielli the proprietor of Amiata winery located in Montegiovi, an ancient village in the municipality of Castel del Piano (a province of Grosseto) which is an incredible 400 meters above sea level at the foot of Mount Amiata, an ancient extinct volcano.
First off, it was so much fun to meet Simone Toninelli – a really energetic guy who started off in life as a lawyer, and with his father bought a gorgeous piece of mountainside land right under an extinct volcano!
"It was a party house," Simone told me, explaining that they built the house that now stands in order to serve as a combination of winery, personal home, and also offer guest accommodations – and what fabulous accommodations they are from the view alone!
I mean, just think of yourself drinking a glass of Simone's excellent wine as you relax on the patio. It was an incredible experience to look up at the mountains and this volcano and think back to Vesuvius and what would happen if the volcano suddenly became active again, immortalizing me with glass in hand!
Well, guests do not have to worry about this as the volcano is extinct. Yet Simone, his charming wife, and their hospitality is very much alive!
During my visit, I was greeted not just with wine year also some post-lunch "snacks" like the curious laurel leaf, a speciality of the area, delicately fried and presented in a beautiful fashion.
Okay – the first thing to understand is that Simone is a "fun guy." He claims not to speak English yet he does. Yet perhaps the best language he speaks is "Volcano." He and his father bought the property because of the proximity to the Volcano, which aside from its natural fascination also has an incredible impact on the soil.
So let us talk about the wine now. First, having gone downstairs to the cellar to see Simone's small, humble, yet very efficient and state-of-the-art winery, it must be so great to be a guest here and have the opportunity to sleep in the exact spot where the vines grow, the wine is made, and the winemaker also in close proximity!
Beyond the volcanic soil that gives a certain personality to the wine, another key element responsible for the fine quality is the diurnal temperature which is to say the difference between the warm "mountain side" days and the very cool "mountain side" nights. This opposition of day and night temperatures allows the wines to keep acidity while enjoying the ripening aspects of the golden sun.
Interesting also is that Simone owns very small plots spread out among many areas and has "contracts" with eleven products for their fruit.
We started out with the white wine – Pirico IGT 2012 which is a combination of 80 percent vermentino and 20 percent malvasia. My notes read "rich honeys flavors and crisp dry finish with a touch of bay and laurel leaves."
Next we had the "easy drinking red" the Lapillo … a fresh cherry scented wine with assertive tannins.
The Lavico that followed was 100% Sangiovese … very finely structured wine with cherry scented fruit.
Then of course, the "crown cherry" of the Cenere Riserva 09, a firmly structured wine with wild black and red cherry flavors and well balanced elegant tannins and vibrant acidity.
It was a really fun visit – and a real opportunity to experience a very high quality wine made on the exact site with the winemaker close at hand.