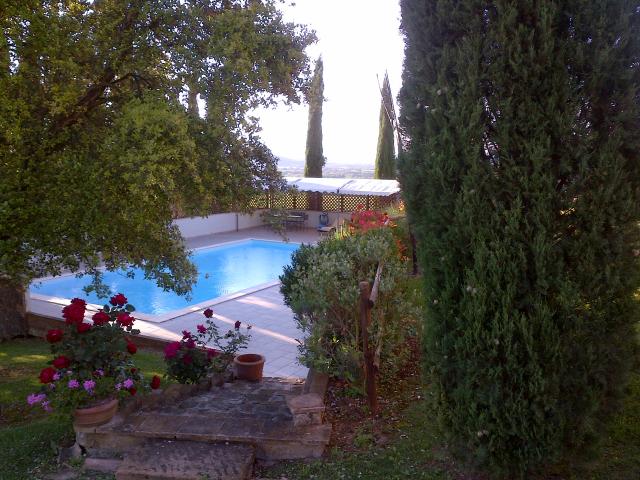 Delightful visit to Casale Pozzuolo to kick off my visit to Montecucco, as of 2011 a new DOCG region for Sangievese.
First, you have to imagine the landscape – incredible green rolling hills everywhere you look, absolutely stunning countryside with brooks and meadows everywhere.
Casale Pozzuolo, a stunning castle that has been lovingly refurbished by its winemaker owners, was the designated "dinner spot" where I would meet many of the winemakers of the area, each with its own story to tell.
First, though, a few more words about Casale Pozzuolo. It is stunning to look at, and the owner, Daniele Galluzzi, made a promise to his grandfather when he was very young that he would keep the property and not sell it to outsiders. Though it has been a struggle for Daniele and his wife (who both have other jobs) to spend the enormous amount of money to refurbish the property and its many guestrooms, the effort was well worth it. As you can see from this link from trip advisers every guest who stays on the property (with a swimming pool and fabulous view) loves it and raves about the TLC given by the couple.
Guests also rave about the wine (and extra virgin olive oil) Daniele produces.
On this night, I had the opportunity to try his two ones, one more of an easy-drinking style made with stainless steel and a shorter elevation on oak (Red Porticcia Montecucco DOC) that was very well-balanced and food friendly with rich notes of wild berries and spice. I spoke with the winemaker and learned it is natural fermentation for 27 days.
The premium wine, Red Porticcia Reserve Montecucco DOC, is aged for a longer time in oak barrels and very complex with layers of red berry flavor.
During the multi-course dinner with various types of pasta and meat, I had the opportunity to try wines from other winemakers in the region (you can see the list below). All wines were made from the Sangiovese grape, and each was unique. Many people consider Sangiovese from this region to reflect characteristics of nearby Brunello, just across the river, yet more affordable and ready to drink. All were Montecucco Sangiovese expect for the Palmoletino, which was a Rosso.
Tenute Folonari Vigne a Porrona 2011
Palomoletino Scarafone 2010
Casale Pozzuolo 2010
Assolati 2010
Poggio Mandorio La Querce 2010
Podere il Poggio Sass'alsole 2010
Tenuto Impostino Viadante 2009
You can read the raves about Casale Pozzuolo in the link below:
http://www.tripadvisor.com/Hotel_Review-g1052733-d1577001-Reviews-Agriturismo_Antico_Casale_Pozzuolo-Seggiano_Province_of_Grosseto_Tuscany.html
and you can read more about Montecucco here: