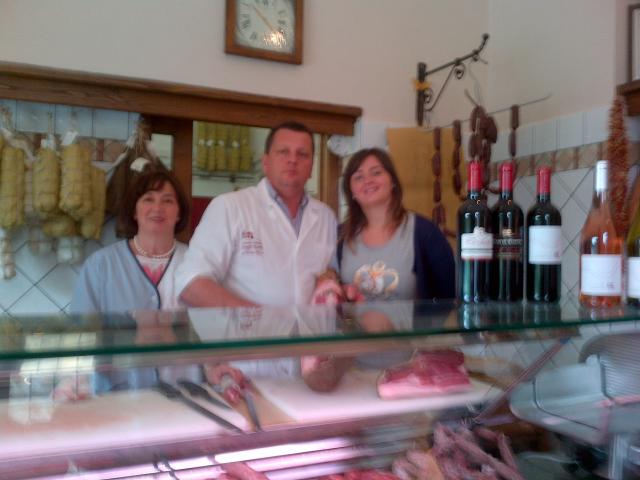 "My father wanted to be a butcher as a young man," says Eleonora Pieri, as she drives me to her family's farm in an area of Montecucco which is just within sight of the Banfi tower in Montalchino.
We stop by for a visit – it is quite charming, with well-arranged meats and what can only be called a "woman's touch" in terms of modern looking object d'art, books, and of course the family's wine proudly for sale on the counter.
Actually, both the butcher shop and the wine became famous thanks to Mario Batali and Mark Bittman, who asked Mr. Pieri to be a consultant of sorts when they were filming in the area and had a TV episode about cooking steaks.
The story of how the winery came to be is is long and interesting — as a child, Eleonora – who looks to be somewhere in her early twenties — grew up helping her grandfather make wine for friends and family. Though her father succeeded as a butcher, quite possibly because he has a fashionable shop in a small village near the Banfi cellar, he decided he also wanted to make wine. In 2001 he bought more pieces of land and built a gorgeous house (which I now sit writing this), complete with the kind of pool usually associated with Hollywood movie stars, and which can pretty much be called a mansion.
The winery, located below the house, is clean and sparkling with spotless stainless steel fermentation tanks, and a small barrel room with oak of various sizes and types, including huge slavonian botti and tonneaux.
Though Eleonora never went to wine school, she learned how to make wine from her father and grandfather, and now makes wine for the family's range of wines with the help of some workers who also care for the animals on the farm.
I taste the wines beginning with the 2013 Blanco, a blend of 80 percent Vermentino and 20 percent Trebbiano – very fresh and floral with a crisp dry finish. The 2013 Rosato is made with 100% Sangiovese and smells and tastes of delicious tangerine fruit and mineral.  The Tribulo Rosso 2011 is full of ripe, jammy fruit and the delicious Pian di Staffa 2008 Riserva is lovely and complex, with deep rich dark fruit and nuances of baked plum and vanilla.