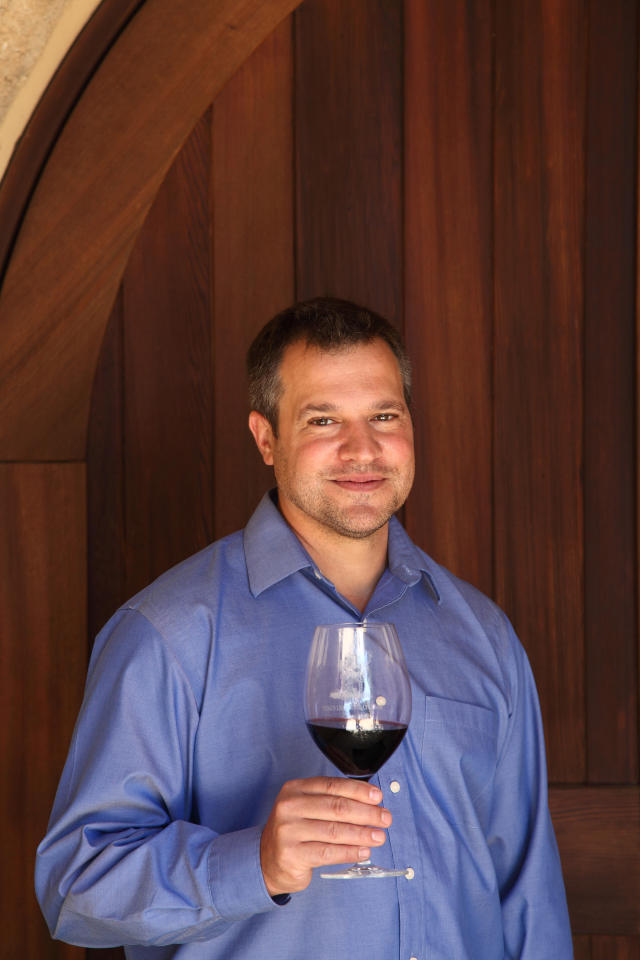 At the @ANV14 (Napa Valley Auction June 7 bidding went wild for Stag's Leap Wine Cellars, raising over 60,000 for local charities. Along with many bottles of Cask 23 was dinner at the winery with winemaker Marcus Notaro (pictured above) … and a very special prize!
It's such a small world — just a few weeks ago at the Master of Wine Symposium in Florence I was invited for this fabulous dinner at the new 26,000 square meter winery in the heart of the Antinori empire, which contains a cellar for five million bottles, the new offices, a wine shop, a museum, a conference hall, and a restaurant. There, Albiera Antinori and Marco Casamonti, the winery's architect, spoke about the creative and practical journey that culminated in the opening of this incredible building in October 2012.
The reason I'm bringing this all up is that Stag's Leap Wine Cellars is a joint venture between Marchese Piero Antinori and Ted Baesler, President and CEO of Ste. Michelle Wine Estates, and part of the auction lot mentioned above includes an invitation to the VIP opening of the New Visitor Center later this year. The estate was designed by world-renowned Barcelona-based architect Javier Barba, and will overlook the estate through glass walls.
What's also interesting is that before his move to Stag's Leap Wine Cellars, Marcus was winemaker at another Ste. Michelle-Antinori joint venture, the winery Col Solare in Red Mountain, Washington. Just last week I took part in a three hour tasting with the Guild of Sommeliers and became so excited about Red Mountain and other Washington State wines I rushed out to buy some for dinner with friends!
Stag's Leap Wine Cellars' fame is tied to its signature estate vineyards, S.L.V. and FAY, both decades old. The S.L.V. is especially famous for triumphing over four-top ranked Bordeaux wines, including two First Growths, in the 1976 judgment of Paris.