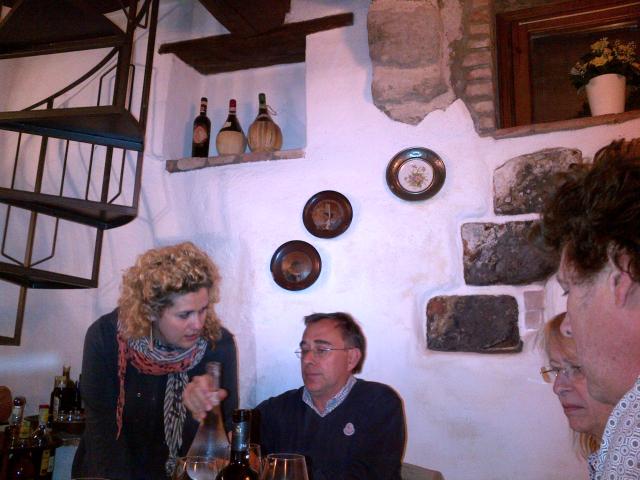 Have you imagined taking a fantasy vacation in Tuscany? People around the world fantasize about the "beautiful life" offered … typically a panoramic view of hills (often including a slice of ocean or castle tower) and Old World stone buildings and lots of time to spend with friends and family,
Agriturismo is increasingly popular way to spend vacation time – just check out things that people are doing on TripAdvisor and you will read raves about the enchantment of taking a holiday in "Old World" regions where guests can experience the hospitality of their hosts, drink wine from their winery, use extra virgin olive oil they make on their salads, and for a moment in time really experience the true Tuscan lifestyle.
So right now I have a secret to reveal – Montecucco is one of the newest DOCG regions in Tuscany, valued for the excellence of its Sangiovese (any wine carrying the DOCG designation must be at least 90% Sangiovese and also aged in oak one year and six months in bottle).
Though the region is just across the river from the famous Brunello area, more people should begin to recognize the Montecucco name.
Recently I had the opportunity to visit the region and was favorably impressed by the passion of the people for their terroir, their wine, and their olive oil. I also saw many wineries … some very humble, such as the newly built winery under the "mansion" of well-to-do butcher Poggio Stenti, to the multi-million dollar, start of the art winery of Colle Massari, which also has some very nice rooms to rent for visitors eager to see the area. You would not believe Colle Massari — it is so gorgeous, with wood to resemble old barrels on the facade, a gorgeous landscape, and excellent wine.
Yet what really astonished me was the absolute beauty of the area …. Many winemakers had what would be called "Hollywood Mansions" with pools, sweeping panoramic views, and fabulous wine ….
…. And "get this" ….
Virtually all of them rent out newly created guest houses and/or rooms for the ultimate couple or family experience.
This in itself is pretty astonishing as Montecucco represents the opportunity to live like a "lord" in a famous Italian opera for a week or more, at a very gentle price.
… and yes, I can quite well imagine myself the royal personage when visiting these estates. You will find a range of accommodations suiting all budgets, yet they are all reasonable and one should consult tripadvisor.com to see the latest reviews.
So in a previous post I already wrote about Casale Pozzuolo which I loved ….
…. I had lunch at Agriturismo Il Selvatico which was magnificent and an absolutely gorgeous space … en route here you will see an ancient church on the property and indeed if you stay here you will be king or queen for a week.
I also wrote separately about Amiata, a winery created by a man obsessed with volcanoes (it is high in the hills, near a historic village and beneath an extinct volcano) and offers a really fabulous experience as well as excellent wines.
Oh, and if you choose to have dinner in the village check out Taverna delle Logge … great pasta and a fabulous authentic scene.
Other choices are lunch at Taverna di Campagna with its view and fab food, a relaxation stop at Petriolo spa where I experienced my FIRST "water" experience (in previous centuries, people came to special spas to "take the water."
Okay, what is meant by this is that people bath in mineral waters to relieve this and that. And yes, for jet lag, so fab.
My last visit was to Salustri winery, which was the picture perfect, "just as promised" experience with a structure that dates from 1400 years ago. Final thoughts? Incredible region to connect to "Old World" experience fabulous food and new as of 2011 DOCG Sangiovese