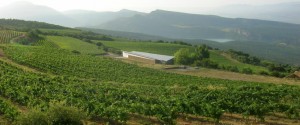 I'm very excited to be traveling to the Napa Valley Wine Auction tomorrow, yet as the event is sold out – it may be too late for many.
If you want to have the "virtual experience" of being there, try the e-auction!  You can get some great wine and support healthcare and children's education nonprofit organizations. The e-gavel comes down on Sunday, June 8 beginning at noon PDT. Lots can be viewed and bids placed at auctionnapavalley.org. 

In addition to each package showcasing Napa Valley's coveted wines, more than 80% of this year's E-Auction lots feature a vintner and/or winery experience not available to the general public, creating very personal connections with the Napa Valley winemaking community. Categories include:


Instant Cellars (24 or more bottles of wine)
Verticals (some quite rare and many older vintages)
Insider Experiences (often meals with vintners in private Napa Valley locations)
Sleepovers (Wine Country overnight accommodations, many at winery guest houses never seen by the public)
Big Bottles (large format bottles, many of which are not otherwise available)
Collaboration (where multiple wineries are involved, often with a common theme)
A contribution of any amount can be made to Lot 301, the Fund-A-Need lot, which goes toward lifting children in the Napa Valley community out of poverty and helping them to lead healthy and successful lives. 

Auction Napa Valley is the NVV's annual community fundraiser that for more than 30 years has utilized the worldwide reputation of Napa Valley wines and the scenic beauty of the region to raise funds to enhance the health and wellbeing of the Napa Valley community. To date, the NVV has invested more than $120 million from Auction Napa Valley proceeds in Napa County nonprofit organizations.
You can find more information here: http://eauction.auctionnapavalley.org/