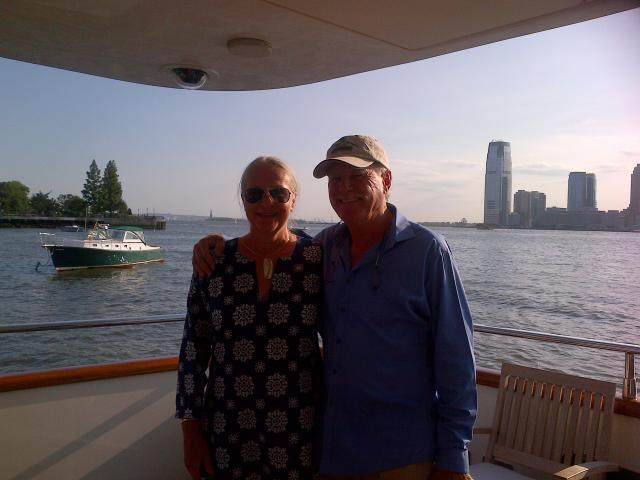 Great tasting last night aboard a very cool yacht!
Chateau Tanunda winery proprietor John Geber greeted NYC journalists aboard his hundred foot yacht  at the helm to showcase his wines from the Barossa Valley.
The evening started out with dry Riesling, continuing on with Chardonnay, Shiraz, and Cabernet Sauvignon.
"To understand the beauty and complexity offered by the Barossa Valley, one must experience it," says Geber. "To overcome the obstacles of getting Americans to visit our land down under, I came up with the next-best thing: to bring Australia to America!"
Geber and his wife Evelyne were perfect hosts, assisted by a handful of crew members who kept glasses filled and passed nibbles.
I met some cool people, including Doug Singer, co-founder of Daily Food &Wine, as well as fun and friendly Sara Lehman who I will see this week at the Blogger's conference in California.
At any rate, the skyline was gorgeous, weather even better, and wines fab.
Chateau Tanunda touts exceptional values across three brand tiers. The "Grand Barossa" line offers a bone-dry Riesling ($15 SRP), Chardonnay ($16), Cabernet Sauvignon ($18), and Shiraz ($18). In the "Noble Baron" range ($50), there is Cabernet and Shiraz. At the icon level is "The Chateau" 100 Year Old Vines Shiraz ($100).