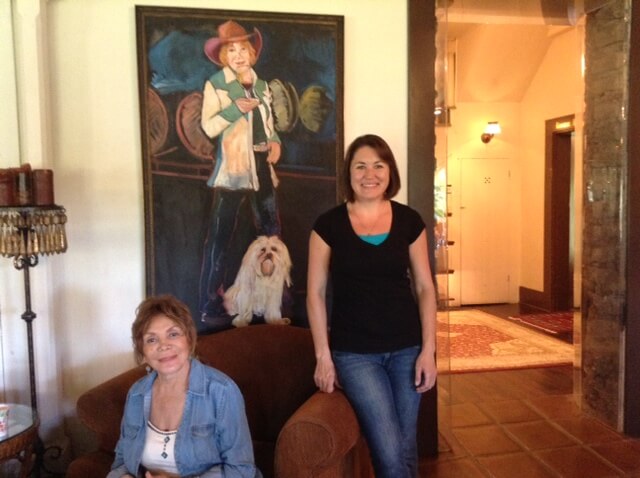 "Welcome," says Iris Rideau, welcoming me into her gorgeous winery made from a house over 130 years old. Well dressed, self assured, and charismatic Iris had success in creating a number of businesses before turning her attention to winemaking. Though her personal love is Rhone Varietals (especially Viognier, which is made here in two styles) Iris and her winemaker Adrienne St. John have a number of varietals.
We actually started off the tasting in the barrel room tasting a Chardonnay about to be bottled and Santa Maria Pinot Noir directly from the barrel it is so delicious it tastes as if it right now being served in an elegant restaurant.
From here we move to the tasting room where there is a giant almost floor to ceiling portrait of Iris with her happy looking dog. The tasting room design is very elegant with comfortable looking chairs and a friendly staff.
The wines here are of a very elegant almost European style. One of my favorite eines is the 2011 Chateau Duplantier Cuvee which is a Rhone blend – incredible balance and elegance.
The Pinot Noir here is excellent. As is the Viognier. I liked both styles, one fermented in stainless steel and the other in French oak.
Oh – and wow! I tasted the Mourvedre! Tasting it I can just imagine the gorgeously ripe friut. No wonder Rhone varietals do so well here.
The opportunity to meet Iris is so fab. And Adrienne is brilliant winemaker.