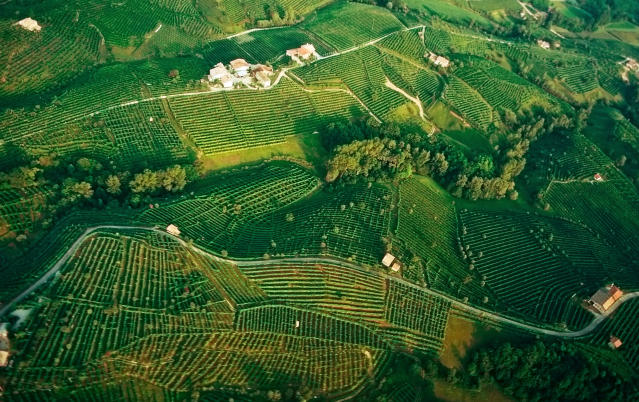 So I am VERY excited to be visiting Alto Adige next week … I visited nearby Trentino a few years ago, which produces very high quality sparkling wine and am now eager to experience the still wines of Alto Adige. Though the region produces less than one percent of the country's wine, the quality is highly respected and affordable.
Until the 1970s Trentino-Alto Adige were one autonomous region – now it is recognized as two provinces. Trentino refers to the Southern part and its capital Trento. Alto-Adige is the northern territory, including the higher part of the Adige river. If you imagine the familiar shape of a ladies' boot that is Italy, Alto Adige would be right at the top. And whereas my visit to Trentino felt like I was in Italy, both German and Italian are the official languages here as the region was part of Austria until WW 1, when it was annexed by Italy.
On the southern side of the Alps, the vineyards range from 600 – 3,300 feet, with rainfall 20 – 32 inches per year and 300 days of sunshine and wide diurnal temperature. I'm expecting to see a wide variety of soils and am curious to speak to the winemakers about how the soils affect the wines – many of the wineries we will visit have their various vineyards posted on the web sites, explaining that they grow different varietals in different vineyards depending on elevation and soil type. The three basic types seem to be porphyry-hard igneous rock containing crystals, weathered primitive rock composed of quartz and mica, and limestone and dolomite and sandy marl.
Schiava (also called Vernatsch) is the most planted red wine. I've tasted it in New York a few times – like many popular local wines such as Dolcetto, when its good it's very very good (in the right hands). The name means "little slave" and is mostly grown in the DOC Santa Maddalena (near the major city of Bolzano) as well as Lago di Caldaro and likes warm soils such as gravel and sand. I'm also eager to see if the trend toward Schiava rose is really happening, and how much of Schiava is blended with the more deeply colored Lagrein. Other red grapes include Pinot Noir, Merlot, and Cabernet Franc and Cabernet Sauvignon.
White grapes include Pinot Grigio (here, the style is less skin contact so the color is more pale), Gewurztraminer, Chardonnay, Pinot Blanc, Muller Thurgau, Kerner, Sylvaner, Riesling, and a small percentage of Veltliner.
Our first stop upon arrival will be a visit to the Laimburg Research Center for Agriculture and Forestry – and the next morning we are off to visit the Wine Estate Unterortl Castel Juval at Castelbello in Val Vernosta (http://www.unterortl.it/en/winery-distillery/viticulture/5-0.html), an area popular with hikers and famous for evidence of settlements from Stone and Bronze Ages. From the web site the mountains look incredibly steep with the grapes grown on the hillside at a height ranging from 650 – 800 meters. According to the web site, the stone walls of gneiss rock sustain the vineyards, giving stability and warmth, with the vines planted to a density of 8000 vines per hectare. Because of the steep slope, vines are pruned by hand. The structure is residual granite soil (which warms quickly on the slope) covering the gneiss rock. The slope's south east exposition produces a microclimate with high daytime temperatures, cool nights, and air circulating from the Vinschgau valley. Varietals grown here include Pinot blanc, Riesling, Muller-Thurgau, and Pinot Noir.
By the way – some sommeliers call Schiava "Pinot Noir without the price tag" and I will express my own opinion when I taste it!
Cantina Nals Margreid (http://www.kellernei.it) at Nalles in Val d'Adige is the next stop – from the web, it looks lovely and modern, with text boasting its 13 terroirs with their own soils and microclimates. Chalky scree, sandy riverbed soils and glacial outwash drifts over an underlyung layer of primitive rock formations consisting of porphyry, marble, gneiss and mica. Elevations vary between 650 and 3000 feet above sea level and benefit from the Mediterranean influences arriving from the south, while being protected by the main ridge of the Alps in the north. Lastly, there is the South Tyrolean climate, which provides vines with an average of 300 sunny days per year and allows for significant differences in temperature between day and night.
The final stop will be Cantina Bolzano (http://www.kellereibozen.com/en/ueber-uns/index.php?navid=1) where the warm sunny microclimate is well suited for red wines.
The next morning we will visit S. Michele-Appiano (http://www.stmichael.it), with the web site boasting its high end Sanct Valentin line. Minimum yields from carefully selected vineyards, oak aging, and tender handling are the hallmarks of this line. The Pinot blanc, for example, grows on limestone gravel soil with clay (Guyot trainging system) with fermentation (50/50) in a mix of barrique-tonneau and large oak barrels. After a year they are mixed and mature together in steel tanks for six months.
J. Hofstatter (http://www.hofstatter.com/en)will follow at Termeno in Bassa Atesina – I'm looking forward to tasting their sweet wines, and then a visit to Abbazia di Novacella (http://www.abbazianovacella.it/it/ordine-convento.html) will follow, and then a tasting of top wines.
Filed under: Alto Adige, Italy, News
Tagged: cabernet franc, cabernet sauvignon, chardonnay, dolcetto, gewürztraminer, merlot, müller-thurgau, pinot blanc, pinot grigio, pinot noir, red wine, riesling, rosé, sparkling wine, traminer