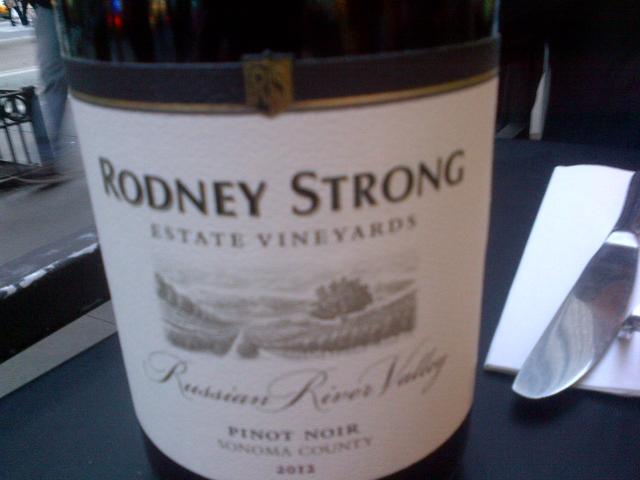 At the recent wine blogger's conference in Santa Barbara I was able to hook up with the Rodney Strong Brothers folks, who are celebrating their 25th Anniversary.
The story of this world class winery actually begins more than 50 years ago, when a celebrated American dancer named Rod Strong settled in Sonoma County to pursue a second lifelong creative passion: winemaking.
Rodney Strong Vineyards was the 13th winery bonded in the newly discovered Sonoma County wine industry.
A trio of winemaking paths crossed when Rick Sayre joined the team as Winemaker in 1979, and again when the Klein Family, 4th generation California farmers, purchased the winery in 1989 and initiated a renewed commitment of modern artisan winemaking.
Through the years, Rodney Strong Vineyards has earned the reputation for critically acclaimed Single Vineyard and Reserve wines, stand out Estate releases and best-in-class Sonoma County varietal wines.
I had the good fortune to try five of their top wines recently, and below are my notes. While I liked all the wines very much and were excellent quality for the price, my VERY favorite was the 2010 Rodney Strong Brothers Cabernet Sauvignon from Alexander Valley, a wine so good they even made a video right there in the vineyard so folks could see the terroir while hearing the winemaker discuss the tasting notes.
2010 Rodney Strong Brothers Cabernet Sauvignon, Alexander Valley 
This was a FABULOUS wine with incredible balance between the sweet lush tannins and racy acidity.  The wine spends 21 months in French oak, 43 percent of it new. It was a luscious, full, rich, prime example of the very highest end of quality Napa Valley Cabs. You can see a very cool short film clip below.
https://www.rodneystrong.com/wine-shop/current-releases/brothers-ridge-alexander-valley-cabernet-sauvignon
2013 Rodney Strong Estate Vineyards, Charlotte's Home Sauvignon Blanc – want something crisp, aromatic, and refreshing to pair with a first course, salad, or a light main dish such as seafood or sole.  I really liked this wine with its succulent citrus and crisp melon  flavors.

2012 Rodney Strong Estate Vineyards, Chalk Hill Chardonnay – rich and luxurious, a very elegant expression of a  California style  Chardonnay.

2012 Rodney Strong Estate Vineyards, Russian River Valley Pinot Noir  – expressive, sophisticated expression of pure berry fruit, well balanced and light enough to enjoy with salmon or even swordfish (with the right sauce), though its perfect match is duck or beef.
2011 Rodney Strong Symmetry (Red Meritage), Alexander Valley – Delicious blackberry spice, chocolate, and deeper, decadent flavors that are made for steak or more substantial fare.

2008 Rodney Strong "A True Gentleman's" Port- Composed of mostly  Zinfandel and Touriga (the most important Port grape in Portugal), with lesser amounts of Petite Sirah, Syrah, and Malbec. The combination of these varietals, from five of their best vineyards, results in a wine with balanced sweetness, powerful flavors, and an unctuous texture that glides on the palate. Try it with dark chocolate.
Filed under: News, Wine reviews
Tagged: cabernet sauvignon, chardonnay, malbec, meritage, petite sirah, pinot noir, port, sauvignon blanc, syrah, zinfandel