Fabulous four course dinner last night at the gorgeous Ritz-Carlton Central Park with Lynn Penner-Ash, owner/winemaker and co-founder of Penner-Ash Cellers.  You probably know the name – the winery is famous for their Pinot Noir, yet last night was the opportunity to taste some of the other wines as well (Riesling, Viognier) and learn more about Lynn and the winery while also supporting the Women's Shelter at Crossroads Community Services at St. Bart's Church in NYC.
The Phenomenal Femmes program was created by Ritz Carlton Wine Director Marika Vida-Arnold (dark hair and dress above), and it is an edifying as well as entertaining program, one that allows guests to get to know the visiting winemakers in a very personal way. Marika is also a brilliant speaker, and helps guests really understand the wines.
The lovely evening started with a glass of delicious Riesling, which was also served with the first course of shrimp. The viognier, very aromatic with a crisp texture, followed with the roasted chicken.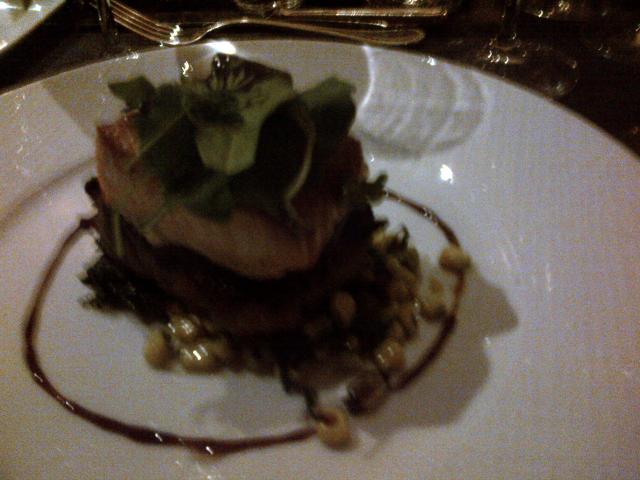 Yet the surprise of the night was a "double delight" of both grilled prime rib and salmon, served with two very different pinot noirs, the pinot noir "Shea Vineyard" 2012 and the pinot noir "Estate vineyard" 2012.  Guests were asked to try the wines with both the salmon and prime rib, and decide which pairing they liked best.
Another surprise was dessert, home made chocolates from the Ritz Carlton. Yet instead of serving this with a sweet wine, the chocolate was served with Pinot Noir Willamette Valley 2012.
Really a fun – and very delicious – evening, thanks to the hard work of Chef Mark Arnao, Marika Vida-Arnold, and of course Lynn Penner-Ash!
About Lynn Penner-Ash
After graduation from UC Davis, Lynn worked as the enologist at Stag's Leap Wine Cellars for four years. She joined the Oregon wine industry in 1988 as winemaker for Rex Hill Winery. Consistently producing award-winning wines, she became Rex Hill's President and Chief Operating Officer in 1993 and continued on with Rex Hill until March of 2002.
Lynn started Penner-Ash Wine Cellars with husband Ron in 1998, carefully crafting small amounts of Pinot noir and Syrah, while she was still at Rex Hill. Their early success with the label caused them to dream of what they could create and in 2001 they began building the Penner-Ash brand full time. Penner-Ash has achieved impressive growth, going from 125 cases of Pinot noir in 1998 to 9,000 cases of Pinot noir, Syrah, Viognier and Riesling in 2011.