"Welcome," says tall, friendly Asaf Doctor, chef at the fun, casual The Brothers Ha'achim restaurant. We are standing in the middle of the famous Carmel market, which has operated in this space for what must be thousands of years and offers beautiful looking fruit, vegetables, spices, meat, and fish – even clothing (new and used) and toys.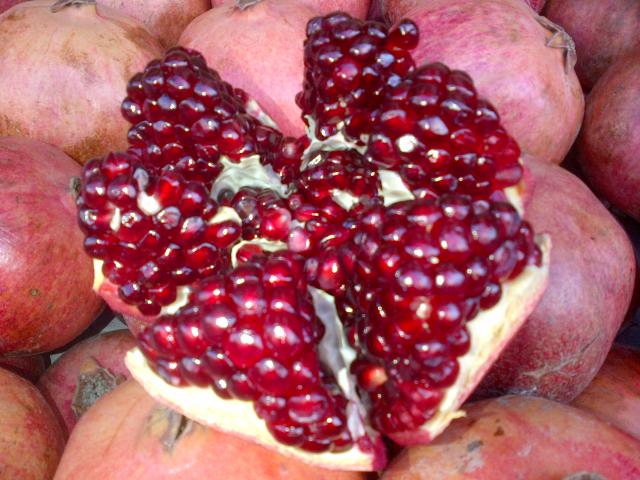 Today, however, our focus is on discovering Asaf's special purveyors, for like chefs all over the world he looks for the best sources.  "I need to buy some black pepper," I say, exposing one of my favorite spices. The spices are displayed here old school style, a patchwork of colors (orange, green, red) in shallow bins.  Before we have lunch at Ha'achim, we are treated to some pre-lunch treats such as a fresh squeezed juice and felafel.
By the time we get to the restaurant, it is bustling, with barely a table to spare. It's hard to understand how to pace oneself here, because as soon as we sit down the food begins to arrive, dozens of mezze like appetizers such as hummus and a variety of different salads … they are followed by more substantial fare, such as salmon, chicken, and meat ….
… and of course very delicious wine, which manager Yotam tells me is specially chosen to offer guests the best quality at a reasonable price. Though the wine portion of the trip is yet to come, the red is a Bordeaux blend with concentrated ripe flavor and subtle nuances of oak.
The concept is a fun replication of an Israeli steakhouse, with pictures of the two brothers posing with fake stars (think Elvis) in homage to the way old school steakhouses feature owners with famous people. The wait staff was surprisingly attractive and the entire restaurant had a great vibe to it. You can read more about it at http://www.facebook.com/haachim.
Dinner at Taizo Restaurant
One of the most attractive and stylish restaurants in Israel, surprisingly, has a sleek Asian theme. It's name is Taizo, and it is absolutely one of the most glamorous restaurants I've visited in recent memory, including Paris, London, and New York. The space is seductive with its glossy black lacquer and attractive large tables in the front of the restaurants for single diners who wish to mingle, or anyone who wants a shared experience.
Chef Yuval ben Neria offers a very seductive, creative menu with choices like steamed buns, marine fish tartare, Black Tiger Shrimp, and carpaccio of sea fish along with inspiring dishes such as tandoori calamari with sour cream, roasted almonds, coriander, and tikot masala.
As good as the food is, the atmosphere is supercharged and characterized by a very attractive crowd speaking to eachother with an electric buzz. It seemed a very exciting place to visit for a business dinner, a date, or just go out with friends. The wine list looked very interesting, offering a nice selection of good Israeli wines.