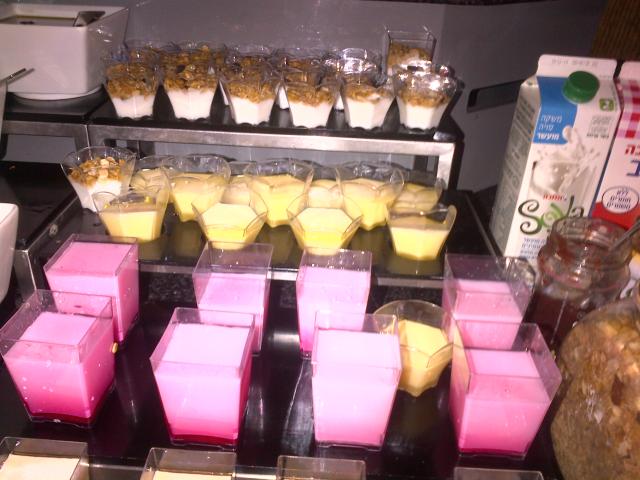 Okay, so if you're traveling the wine country – or in any other incidence when you are attending a conference or in a remote place for a limited amount of time – chances are you check into a nice hotel and have zero time to explore all its pleasures.
 Yes, this was my experience in Israel when during the process of traveling from location "A" to location "B" we spent the night at one of the most spectacular hotels during my visit, the Rimonim Galei Kinnereth.

So if it's been a while since you studied the bible, Tiberias is a city on the western shore of the Sea of Gaililee that was established in 20 CE and named in honor of the emperor Tiberius.  In those days it was typical to make a kind gesture to the ruler in favor of better treatment. 
 In any event, this hotel was so incredibly fabulous. Walking into this marble lobby after a very long hard day of traveling and stopping in various dusty Bedouin villages was such an incredible pleasure! And the pleasure even intensified as I saw the room, which had this picturesque view of the sea and every possible comfort.

The village seems so small it is hard to believe that it was once the largest Jewish city in the Galilee
In any event, beyond the view and comfort of the room was the "spa" element …. Alas, there was no time to indulge, yet the comfortable looking robs were displayed nicely and the menu of spa services was upscale. The prices, too, in comparison at least to Manhattan, seemed very reasonable. If I lived in Israel I would definitely make this my weekend retreat for rest and relaxation, a spa weekend vacation, as it were.
What I DID experience was the breakfast, which begins exactly at six-thirty in the morning and can possibly compete with my favorite buffet breakfasts in virtually every city in the world.  As Tiberias is an international destination, people come here from all over, and hotels must appeal to all tastes. A chef made omlettes while others can choose from a variety of salads, sweets, and savory dishes.  There was even a sweet white Israeli wine … which actually surprised me. I have seen Cava in Spainish buffets and Prosecco in Italian buffets yet never a semi-dry white wine at a buffet.  Must admit, however, it paired very well with the Halva, of which there was several selections.
 Checking out well before 9am, before I had a chance to enjoy the spa or take a swim in the pool or even the sea, I felt determined to return and enjoy all that again.