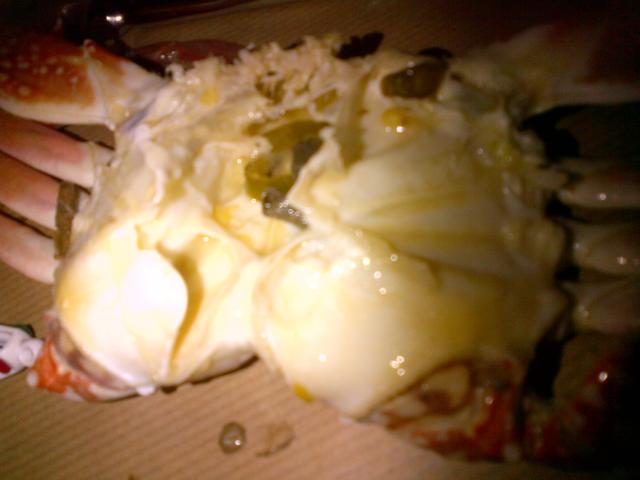 "Here, try this!" says Eyal Shani, gregarious owner and chef at North Abraxses, a fun and casual restaurant in bustling Tel Aviv. The uninitiated might be surprised to see Eyal grape a scoop of tuna tartar in his bare hand and bang it down on the layer of brown butcher paper that is serving the function of a plate.
Eyal Shani has designed this restaurant to feature an ever changing selection of fresh, seasonal ingredients, especially what happened to look good in the market that day. All food items are served in a similar fashion, though a delicious looking and fabulous tasting tiny yellow and red tomatoes are served in a small white bowl, and the restaurant's famous roasted cauliflower are serviced on a piece of paper, with guests expected to tear them apart by hand.
Though there are tables (outdoor tables too on pleasant nights), the fun place to be is the circular shaped sharing tables, where you sit with a friend or unknown fellow diners and watch the sous chefs in the kitchen prepare your food as you sip on a glass of quality Israeli wine.
"Do you think this is a good idea for a first date," I asked a guy in his mid-thirties sitting next to me. The two of us were sticking our forks into a delicious grilled fish the chef had presented us to us live only minutes before.
"I think so," he responded. Looking a him, it was easy to see he was a down to earth guy, a writer who wore casual clothes and had few airs.  "I think it would be a fun evening."
I agreed, especially as taking a woman to this place and monitoring her reaction would quickly reveal her comfort level with unconventional restaurants, possibly saving lots of time down the line in terms of measuring your compatibility.
But then again, the slam bam style of service, where food is deposited on the brown butcher paper in front of you, is really only available at the sharing table near the kitchen. The small tables in the interior and immediate exterior of the restaurants were all brought dishes to share on plates.
I liked the concept – it could be fun for a first date, and even more fun for a married couple so they could get to know and talk to the people around them and see what's on their plate. It could also be a fun idea for colleagues.
Will this sort of sharing, brown paper brown experience catch on in New York? Perhaps in a more modified form, given the city's notorious food sanitation issues.  But beyond the sharing and rustic manner of eating is the superior quality of the food itself – the tiny red and yellow tomatoes were superior to virtually anything I've ever had in my life, which extended to everything the menu offered.