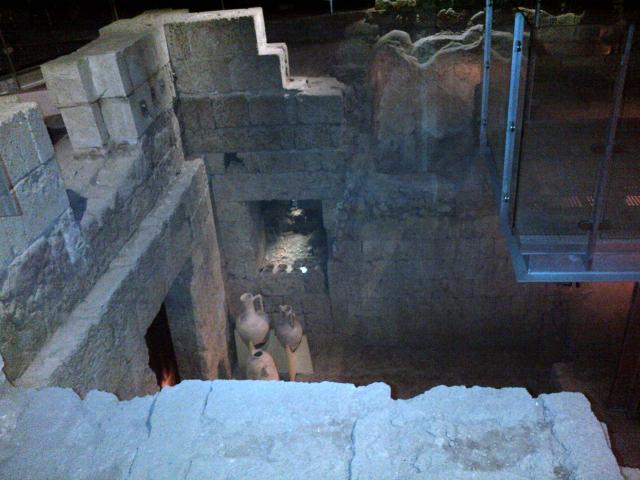 "It will be a challenge to tell you the history of Jaffa in forty minutes, but I'll try," says our guide at the Jaffa visitor's center. Jamie is young and energized about his subject, and speaks with a clipped, pronounced British accent.
We stand together in room at the bottom of the center, with the walls designed to resemble an ancient dwelling with cabinets holding jewelry, weapons, and ancient artifacts such as wine jugs.  We actually learn quite a bit in our short tour of history, with the most important fact being that the reason Jaffa is so famous is because it is so well situated on the Mediterranean coast. For thousands of years, it had been conquered by civilization after civilization, with each building new houses and buildings over the conquered, burned city.
In fact, the visitor center offers the recreation of what is for all practical purposes an ancient shopping mall, a structure that in ancient days was divided into small shops.  The shopping mall always had an administrator, who was responsible for enforcing rules and making sure everyone played fair (used the same scales, etc). Also excavated was the home of the administrator, whose expensive objects d'art  and furnishings suggested he was the richest person in the village.
Immediately after the visitor's center, we visited a fabulous museum so small and personal it actually still serves as one of the homes of artist Ilana Goor.  Now almost eight and still actively creating art, Ilana was born in Israel and her museum displays both her own work (mostly metal structures and furniture) as well as the many artists she's collected over the years. She has her own personal apartments within the museum, which is a work of art itself. She bought the run down structure primarily for its beachside view of Jaffa, and spent a fortune renovating it. The rootop garden is extraordinary.