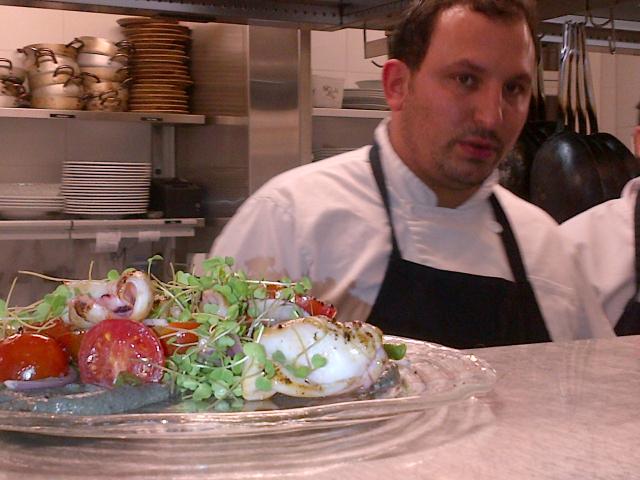 So here I am at the Wilhemina Restaurant, a fashionable restaurant in the historic Sarona area which has now turned into a center for culture and cuisine.  According to our host Benjamin Gad-Ninai, Director of Hosting Operations Department at Israel's Ministry of Tourism, 140 years ago the area was settled as a German Temper community.
We are a group of food and wine writers here in Israel to discover the rebirth of Israeli cuisine – or maybe the new, upbeat style of Israeli food since the food culture here is thousands of years old and today represents a multitude of food cultures, as today's citizens have brought family recipes from all corners of the globe.  We try Israeli wines but it's only a taste of what will come at the end of our trip when we visit some wineries.
Cuisine at Wilhemina is upscale and international in style, yet with a modern Israeli touch, especially with regard to the appetizers. During the course of dinner, Mr. Gad-Ninai tells us about the new tourism developments in the city  …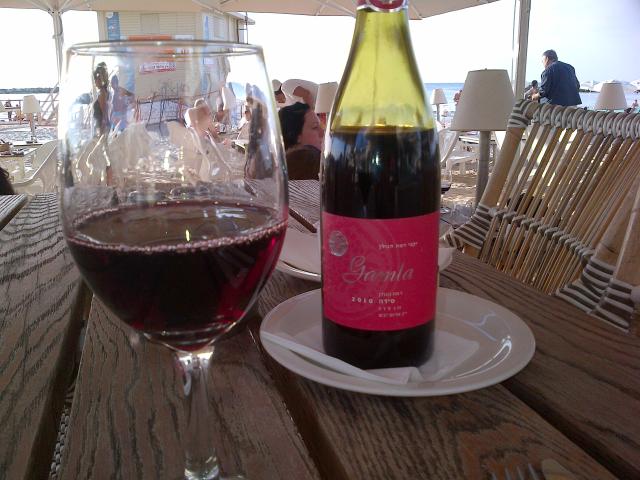 … but I was lucky enough to have experienced the pleasures of Tel Aviv earlier that afternoon, when I checked into the "old school" glamorous Herod Hotel, overlooking a Tel Aviv beach so beautiful words can't even begin to describe it. The receptionist greets me with a smile, and behind her is this giant, black and white wall sized blowup of the pool scene circa 1957.
The room is gorgeous and large enough (thankfully!) for me to conduct my daily exercise cuisine, though there is also a gym. Every room offers a "partial" view of the ocean (the hotel is designed in a way that everyone gets  a partial view) and the rooms are bright with sunlight. One of the best things about the hotel, however, is the incredibly gorgeous view from the breakfast room, which offers the infamous "Israeli breakfast buffet" where you can order everything from omlets to pancakes, with everything between. Every morning of my visit I spent two hours sitting at a  little table by the floor to ceiling window overlooking the beach, watching the multitude of people walking, running, and biking on the boardwalk.  On the beach itself, one could see people playing volleyball or working out. Many people were swimming – and all this before work hours!
I spent that first day lunching at one of the many upscale restaurants that line the beach, having first spent an hour walking around to check out each – the people as well as the offerings.  Overall, the crowd was quite an international mix, with many people speaking French and Italian. The vibe was fun and upbeat, and as I read about the huge snowstorm in New York, I felt very lucky to be enjoying the warm Tel Aviv sun.