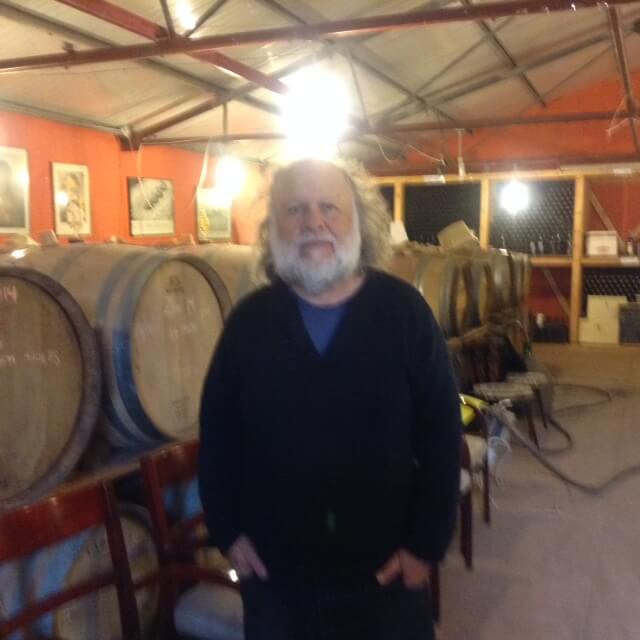 So most people associate Israel with religious sights … or hot clubs (play or pray, yes?) Yet increasingly the state is known for its excellent wine. Recently I had the chance to meet up with one of the second wave of pioneers (winemakers who learned from the original mavens), a gentleman named Ze'ev Dunie.
"So you must have made a fortune in another business to build a winery," I said, knowing the millions of dollars spent in the Napa Valley or Bordeaux.
Yet not so for Ze'ev, who took a sort of pension from his many years working as a film professor in Israel to buy some land. Though he didn't know all that much about winemaking, a few years earlier he had created a documentary about wine in Israel for which he interviewed a variety of people involved in the wine industry, from growers to winemakers to people who picked the grapes and sold the stuff. Then he began to read a wide variety of wine making books, and with the help of his winemaker friends, began to make wine. Initially it was just a few barrels from bought grapes, but soon he was planting grapes (varietals he liked, such as syrah, mouvedre, zinfandel, and Petite Sirah) and his production dramatically increased.
You can usually find him and his wines on the top ten list of many magazines, and tasting them (both from the barrel and the bottle) I must agree.
Talking to Ze'ev was so fascinating – he's as much a philosopher as a winemaker, and in the course of the conversation (almost every conversation I would imagine) also managers to fold in his experiences at Cal Tech in Los Angeles, where the culture of "stream of consciousness" filmmaking gave him a new view on life.
Among the many stories told that day was that of how he happened to find a grower of Old Vine Chenin Blanc, convinced the grower not to grub up the vines, and now produces some of the best barrel fermented Chenin Blanc I've ever had. The 2010 Antoine (he names all his wines after friends or historical characters he admires) – a blend of Syrah, Grenache, and Mouvedre, is just richly packed with ripe (not too ripe) fruit and good acidity.
The Judea Hills where he has his vines is good for grapes because of the altitude and cool nights, especially in summer. He tells me that one day in Corsica, when asking questions ofa winemaker there, he realized that there was no need to ask questions because the terroir was so different.
A fabulous ending to a great #goIsrael experience!