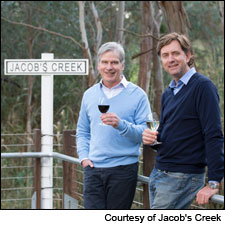 It's the Australian way, isn't it, to find a market and make a wine to fill a need.
Last night I had a great conversation with Jacob's Creek winemaker Bernard Hickin (light blue sweater above) and tried the new Two Lands wines, a new range of wines produced as a collaborative project between Jacob Creek's Mr. Hickin and award-winning Napa winemaker, Ehren Jordan. The range is just now being launched in the US, and features four varieties: Pinot Gris, Chardonnay, Shiraz, and Cabernet Sauvignon, all for under $14 a bottle.
"We call Two lands a Californian expression of Australian wine," said Hickin, explaining that the partnership with Ehren Jordan was an opportunity to share the best of each of their country's winemaking crafts together to create something unique.  "The vibrant character of Australian fruit works hand in hand with Jordan's boutique approach to winemaking, which added additional complexity and distinctiveness to the resulting wines."
The wines were excellent — very well made and in the Australian fashion, meant to have immediate appeal to the American palate. Uniformly, the wines were fruit-led, dry, yet had sweet enticing aromas and ripe fruit flavors. The concentration of fruit was incredible for a $14 dollar wine, offering great value for the price. Moreover, the wines were exceptionally food friendly.
To showcase this food friendly nature, the wines were paired with several courses during a fabulous dinner at the Tasting Table Test Kitchen. The reception featured the Pinot Gris, which was made in the honeyed Alsace fashion with delicious ripe pear.
The first course of Hamachi, Paffenroth radishes, Ronnybrook buttermilk, Macoun apples, and sorrel was paired with the Chardonnay, which was characterized by ripe apple fruit – very luscious and mouth filling.
The second course was Almond agnolotti, charred langoustine, fried garlic, and saffron – this was paired with the Shiraz, which had ripe fruit yet was a bit smoother and softer than the typical Australian Shiraz.
The third course, herb-crusted Australian lamb chops, artichoke puree, roasted carrots, and mustard cress labneh, featured the Cabernet Sauvignon, my absolute favorite wine of the evening – but then again, I'm passionate about quality Cabernet Sauvignon. This wine had the juicy ripe blackberry fruit I adore, tempered by notes of vanilla and other layers of flavor like black licorice.
It was such a treat to sit next to Bernard Hickin and talk to him about winemaking and taste this exciting new range of wines.