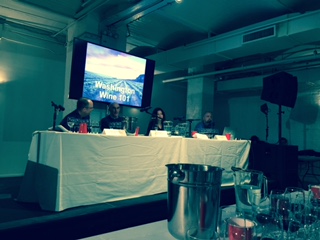 What a treat to attend a great terroir centric seminar featuring four great presenters and fabulous representation of the quality of Washington State Wine. Though the story began with Riesling and Merlot, now Cabernet Sauvignon is king and other varieties include Syrah and Chardonnay.
Dr. Kevin Pogue, Professor in the Department of Geology at Whitman College in Walla Walla spoke about the terroir, while Anna Schafer (named "winemaker to watch" by Seattle magazine) of aMaurice Cellars spoke more about her family's Viognier.
Rick Small, director of production at Woodward Canyon, is a legend in Washington State and former president of the Walla Walla Wine Grower's Association.  He spoke about the transformation of Merlot over the last few decades and offered a 1994 Woodward Canyon Merlot that was still going strong.
Bob Bertheau, Head Winemaker at chateau Ste Michelle, spoke about the Bordeaux blends (Bordeaux shares the same latitude as Washington State) and presented an excellent 2010 Artist Series Meritage.