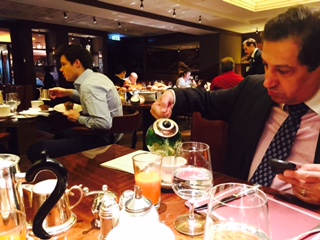 "Welcome, we've been expecting you," says the magnificently dressed doorman in the kind of baritone voice you'd expect to hear in a new Broadway play.
It's almost eleven in the evening and when he addresses me by name I'm wondering how he knows exactly who I am. True, it's a boutique hotel, yet it's not all that small … and yes, I did email the concierge to let him know we are arriving quite late (typical story of delayed trains, planes, and automobiles) yet the personal recognition makes me for a brief moment feel as if I'm returning to my personal English estate, with the servants (just like the Ivory Merchant movies) lined up in greeting.
In any event it's a new hotel for us – typically we have stayed at an established well known and very ancient/traditional hotel where we even had things stored for us between visits. Yet even though the service was personal I was looking for a change. The idea of changing from a decade-loyal hotel actually was a result of lunch at The Delaunay, one of the many themed restaurants owned by Chris Corbin and Jeremy King who have been working together for over thirty years. On every visit to London I can always be found at The Wolseley or The Delaunay or Brasserie Zedel though they have many others. All the restaurants have their own themes and the very best chefs, yet the experience is always that of elegance and luxury.
In any event, when the server explained a new hotel was to open I couldn't wait to book a room.
And so here I am.
Like their collection of boutique restaurants, this hotel also has a theme – it is meant to evoke the elegance and personalized hospitality of pre-war Mayfair. Though I wasn't around during that era, the hotel is extremely elegant and also extremely personalized. In some ways, one feels as if one is stepping inside a Merchant Ivory film. The uniforms are very evocative of some past era, and the gorgeously decorated interior is filled with pictures that seem to have captured the "popular" set of that day.
Yet here's the thing: the hotel is not only elegant with the oft talked about seven star service, it is also incredibly hip. Most of the guests seem to have a certain 'sense of self' in the way they carry themselves. And as is the case in many European resorts its fun to just watch the dynamics in this most theatrical ambiance.
The young bankers at breakfast are simple enough to figure out. Yet was that a rock star that just passed by with his wild hair and skinny jeans? Hard to tell if the "creative types" outnumber the young bankers. Yet does it really matter?
The decor is very romantic with its exotic oil paintings and black and white photos of celebrities from the past that fill the walls of the elevators and our even inside the rooms. Our room had beautiful portraits as well as a long horizontal snapshot of bathing beauties lined up at the beach above the very comfortable bed.
The rooms all share the same theme — a style I happen to associate with the glamour of Hollywood in the roaring twenties … A very smart art decor look. The basic difference between the rooms seems to be their size. Lots of interesting touches (glossy travel magazines, sleek espresso coffee machine. Books you never got around to reading that tell stories of flappers and bootleggers and F. Scott Fitzgerald.  Not a detail has been left to chance.
The hotel is located in Mayfair with several trendy restaurants a block away. There is a private lounge for guests only and a very attractive spa and health club.
Really exciting new hotel that reflects today's London – the best of the past with the vibrancy of today. '